Acer Aspire 756
(+) PROS:

Best Configuaration




(–) CONS:

Good Build Quality
Acer Aspire 756 Specification:
OSLinux
Screen11.6inch
ProcessorIntel Celeron 1007U
RAM2GB DDR3
Storage500GB
GraphicsNo Deidcated GFX
DVD Drive
Camera
Card Reader
Battery
Connectivity
Ports
Weight
Max.Thick
Warranty
Acer Aspire 756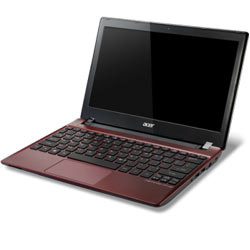 If you are looking for a highly portable and at the same time the feel of a normal laptop, the 11.6 inch screen size mini laptop AOD 756 from Acer brand is the right choice. Comes with the Intel Celeron Dual Core Processor 1007U with the clock speed of 1.5GHz with 2MB cache. The RAM on it is 2GB DDR3 and the HDD capacity is 500GB. Installed with the Linux operating system and you may install your own preferred OS later on it.
With the Intel HD graphics and the 11.6in Active Matrix TFT Colour LCD (CineCrystal) display, watching HD movies on this mini laptop is clear and bright. There is a 0.3 Megapixel front Web camera for your video chats. The keyboard is of good quality and nice feel to type and the touch pad is responsive. It has internal Mic and Speakers. This AOD 756 mini laptop is built with WiFi 802.11b/g/n and Gigabit Ethernet LAN for internet broadband and local area network connections. The bluetooth on this laptop is v4.0+HS.
On the side of this mini laptop you will have 3 nos of USB 2.0 ports, 1No of HDMI port and 1No of VGA out port for your external monitor connectivity. To read your memory card, it has the multi card reader on it's side.
This mini laptop comes with 6 Cell battery which provides up to 4Hours of backup time. The weight of this laptop is only 1.25 Kgs and the thickness is 27.4mm which is perfect for frequent travelers.A good quality mini laptop with 11.6 inch screen from Acer.
Related Laptops