Acer Aspire E1-531 (Windows 8, B960 2.2GHz)
(+) PROS:

Students and Beginners




(–) CONS:

Cheap Price
Acer Aspire E1-531 (Windows 8, B960 2.2GHz) Specification:
OSWindows 8
Screen15.6inch
ProcessorPentium Dual Core B960
RAM2GB DDR3
Storage500GB
GraphicsIntel HD Graphics
DVD Drive
Camera
Card Reader
Battery
Connectivity
Ports
Weight
Max.Thick
Warranty
Acer Aspire E1-531 (Windows 8, B960 2.2GHz)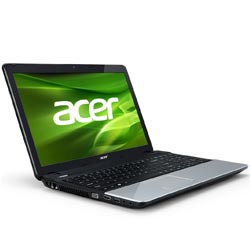 One of the cheap and best laptop model from Acer with big 15.6inch display and the Intel Dual core Processor B960 with a clock speed of 2.2GHz. Comes with Windows 8 OS and 2GB of DR3 RAM. The processor is a Sandy Bridge processor with in-built Intel HD graphics. Weighing about 2.5KG, this laptop could be a better desktop replacement with good portability. This is an entry level laptop good for students and beginners. The Windows 8 operating system works smoothly and an addition of another 2GB RAM will improve the overall performance of this E1-531 laptop while doing multi task operations. The HD graphics and the processor is not good enough to operate the latest games. But for daily usage like Internet browsing and office document editing, this laptop will work without any trouble.
The LAN on this laptop is of Gigabit type. Have Bluetooth support on it. There are three numbers of USB 2.0 ports, one number of HDMI port and one number of VGA port on the sides of this laptop. There is no USB3.0 ports for high speed data transfers. There is WiFi which is 802.11b/g/n with good signal receiving capacity.
The dimension of this laptop is 382 x 253 x 33.2 mm with a weight of approx 2.5Kgs.
Overall this is one of a best and cheap laptop with good enough power and good hardware for students and beginners.
Suggestion: The difference between the performance of the B960 processor and the 1005M processor is very minimum. The Acer Aspir E1-531 which comes with 1005M processor costs about Rs-1000 less than this model. You can invest this savings  to upgrade your RAM with an additional 2GB module which will cost you about Rs-1400.
PROS
Value for money
Good build quality
Full Keyboard with numeric keys
Gigabit LAN
Acer Crystal Eye Webcam (1280 x 1024)
Windows 8
CONS
No USB 3.0
No dedicated graphics
The processor is not suitable for heavy tasks and latest games
Single bar type touch pad keys (Need to go to both corners to get the right click)
Related Laptops