Acer Aspire E1-531 (Windows 8, Celeron 1005 1.9GHz)
(+) PROS:

Students and Beginners




(–) CONS:

Highly Recommended
Acer Aspire E1-531 (Windows 8, Celeron 1005 1.9GHz) Specification:
OSWindows 8
Screen15.6inch
ProcessorIntel Celeron 1005M 1.9GHz
RAM2GB DDR3
Storage500GB
GraphicsIntel HD Graphics
DVD Drive
Camera
Card Reader
Battery
Connectivity
Ports
Weight
Max.Thick
Warranty
Acer Aspire E1-531 (Windows 8, Celeron 1005 1.9GHz)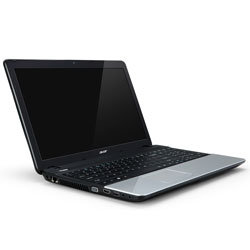 A 15.6 inch display, Windows8 powered cheap laptop from Acer with good built quality for daily normal usage. Comes with Intel Celeron Dual Core 1005M processor with a clock speed of 1.9GHz. The RAM is 2GB DDR3 with one unused slot for upgrade. This cheap laptop comes with DVD RW drive, WiFi 802.11 b/g/n, Gigabit LAN, BT and Multicard slot.
There is no dedicated graphics. The Intel HD graphics is not so powerful, but good enough for daily Internet usage and HD video watching. Weighing 2.45Kgs with a dimension of 382x253x33.2mm. Comes with 6 cell battery which provides good battery back up on this laptop. There is one RJ45 port, one HDMI port, one VGA port and three USB 2.0 ports on it.
Highly Recommended. The processor , The Intel Celeron Dual Core 1005M is almost gives the same performance of the Pentium Dual Core processor B960 and costs less. Also the battery performance of this processor is good compared to the B960. Windows 8 works smoothly. An addition of 2GB RAM which costs about RS:1450 will improve the user experience while doing multi task operations.
Related Laptops