Acer Aspire V5 131 (Windows8)
(+) PROS:

Best Mini Laptop




(–) CONS:

Value For Money
Acer Aspire V5 131 (Windows8) Specification:
OSWindows 8
Screen11.6" Display
ProcessorCeleron Dual Core 1005 1.9GHz
RAM2GB DDR3
Storage500GB
GraphicsIntel HD Graphics
DVD Drive
Camera
Card Reader
Battery
Connectivity
Ports
Weight
Max.Thick
Warranty
Acer Aspire V5 131 (Windows8)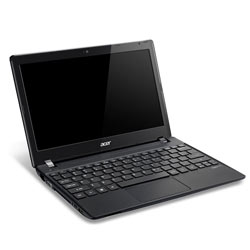 This thin and light Acer V5 131 laptop is a 11.6 displayed mini laptop. This particular model comes with Intel Celeron Dual Core 1005 processor with a clock speed of 1.9GHz, 2MB of cache and a Thermal design power of 35w. The storage on this laptop is a normal HDD of capacity 500GB. Comes built with 2GB of DDR3 RAM. There is one more RAM slot to use and by adding one more memory module not only increase the memory capacity but will be able to activate the dual channel mode on it that will increase its performance noticeably.
This Aspire V5 131 is similar in design of the earlier Aspire one 756 mini laptops.
This particular piece comes with windows8 operating system. But if you are looking for one with a Linux OS with the same hardware specs, you can get it at Rs.3000 less than this one.
The display is a 11.6 inch with a resolution of 1366*768 pixels LED Backlit matte one. The overall picture quality of this display is good with acceptable color and brightness. The matte finish also helps using this laptop outside without any reflection. But the viewing angle is not bigger and if you are looking for wider viewing angle, you may have to look for laptops with IPS panel which can be read from all angles.
The CPU and the in-built HD graphics are good enough to drive your daily usage applications. However, playing new games on this Acer AspireV5 131 is nearly impossible.
This laptop operates cool on most of the occasions and the battery life also quiet good (7hrs). Windows8 works smoothly but for maximum user experience you may expand its memory and replace the HDD with a SSD. There are two USB2.0, one USB3.0, one VGA port, one HDMI port , Multiple Card Reader and Audio Combi Connection. The laptop weight is 1.48kg, thickness is 27.23, length is 283, and the width is 202.
The battery is 5000 mAH, 56wh Lithium- Ion type with an approximate manufacturer mentioned operating Hrs of 7Hrs. The webcam is HD with 1280*720 pixels which is good enough for video chats and capturing. Keyboard is chiclet type. Comes with a 12months of manufacturer warranty.
There is no DVD RW drive on it. The WiFi is IEEE 802.11b/g/n type and the LAN is Gigabit one. There is in built Bluetooth which is 4.0 type.
Related Laptops