Acer Chromebook C720
(+) PROS:

It is just a browser




(–) CONS:

Light Weight
Acer Chromebook C720 Specification:
OSChrome OS
Screen11.6inch
ProcessorCeleron Dual Core 2955U 1.4GHz
RAM2GB DDR3
Storage16GB SSD
GraphicsIntel HD Graphics
DVD Drive
Camera
Card Reader
Battery
Connectivity
Ports
Weight
Max.Thick
Warranty
Acer Chromebook C720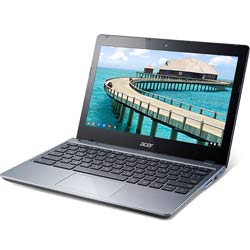 This laptop is a high performing, hassle free laptop that has been designed for those people, who have been searching for maximum speed. The data is safely backed up in Cloud. It has a quick boot up and its speed never slows down. It has a USB 3 Port designed for efficient and fast data transfer. The unique point of this laptop is that it tends to sync with every device that uses Chrome and Google services.
Acer is a leading company in the market that is known to launch from time and again some of the best products. Acer laptops are immensely popular among the users and are being sold like hotcakes. The latest product  is the Acer C720 Chromebook that already has some exciting reviews posted by its users.
It is an everyday laptop and are made to last for a long time. They are efficient and effective to be used both at office and at home. Students and professionals would find these laptops extremely useful and also easy in using. This system has been design to be highly responsive and boots up quickly than the other available laptops in the market. Moreover, the manufacturer assures that it would continue to provide very high speed computing after completing the booting sequence also. It is equipped with a processor of very high quality and is powered by Intel Celeron Fourth Generation Chip. Moreover, the Dual Core Processor does permit higher computing speed of 1.4 GHz and a 2 MB cache. OS Chrome is used in this laptop and is made to sync seamlessly with every Chrome based operations and features present, including the Google powered phones. The additional Cloud Service features assures the users of maximum data safety. It comes with a two year warranty and a free transit insurance.
Pros
Very light weight and responsive
Starts and stops very quick
Plenty of Chrome apps to try
It has SSD drive and USB 3.0 ports for fast data transfer
Cons
You can not install any other OS ( Windows or Linux) on this
It is only for internet browsing
The storage is very small (16GB)
Related Laptops