Asus Laptop X53U-SX358D
Asus Laptop X53U-SX358D Specification:
OSFree DOS
Screen15.6inch(1366X768)
ProcessorAMD Brazos Fusion APU C-60 Processor
RAM2GB DDR3(Expandable Upto 8GB)
Storage500GB Hard Disk Drive
Graphics256MB AMD Radeon HD 6250
DVD Drive
Camera
Card Reader
Battery
Connectivity
Ports
Weight
Max.Thick
Warranty
Asus Laptop X53U-SX358D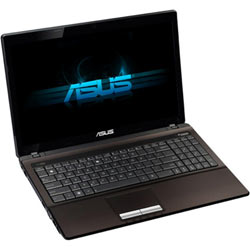 Asus X53U-SX358D laptop is the latest offering from Taiwanese giant Asus. Asus Laptops has crafted the ideal range of laptops and notebooks for play and work. The X series comes with impressive features that simplifies user tasks and provides ample entertainment. The notebook comes in a rich mocha brown color and looks amazingly good. The presence of power4gear features allows batter power conservation offering a serene computing environment.
Asus X53U-SX358D is powered by AMD Brazos Fusion APU C-60 processor that offers amazing speed. The notebook comes with a 500 GB hard disk space allowing users to store important and favorite things ranging from videos to movies, from music to photographs to documents. The system has a memory of 2 GB DDR3 MHz SDRAM that allows the user to multitask with no compromise on the system performance. In addition, the notebook comes with a free DOS.
Designed for user convenience and comfort, Asus X53U-SX358D is built on IceCool Technology. This technology keeps the heat-generating components afar from palm rest thereby ensuring a comfortable typing experience for the user. As both the typing surface and the palm rests remain cooler when compared to body temperature, users can work with ease even after longer periods of use. In addition, the Palm Proof Technology helps the touchpad to differentiate between the finger and palm contact. This helps in the prevention of unintentional cursor movement while typing.
Asus X53U-SX358D comes with a 15-inch display screen that lets users to do numerous tasks ranging from building PowerPoint presentations to watching movies or videos to browsing through memory-filled photographs. The LED-backlight glare panel makes each and every experience worthwhile. The notebook has a resolution of 1366 x 768 pixels that offers amazing clarity and fantastic brightness.
Asus Laptop X53U-SX358D  is an ideal companion in every aspect. The notebook helps in connecting users across the world. This superior performing notebook consists of three 2.0 USB ports enabling easy transfer of data and the using of devices that support the USB. The notebook is equipped with an integrated 10/100/1000 base T and 802.11 b/g/n that offers both wireless and wired connectivity for internet browsing. The VGA port and the HDMI port help in connecting to televisions, entertainment systems, and gaming consoles.
The notebook has a 0.3 megapixel camera that allows clear and crisp video chats and snap photos with rich colors, sharp details, and superior contrast. Asus X53U-SX358D is equipped with Altec Lansing speakers, which empowers the notebook with rich sound and powerful bass. Users can experience the best video and audio quality with the notebook.
A perfect blend of technology and style, Asus X53U-SX358D is elegant and sleek. One can carry the notebook in hand or in a bag; this notebook never wears out. This high-performance sturdy notebook is powered by 6-cell battery. So, whether the user is watching a movie at home or working in office, the notebook runs uninterruptedly.
Designed for everyday use, Asus X53U-SX358D delivers only the best computing performance for both personal and professional use.
Related Laptops