Asus Laptop X54C-SX454D
Asus Laptop X54C-SX454D Specification:
OSFree DOS
Screen15.5 inch LED(1366 x 768)
ProcessorIntel 2nd Generation Corei3 2350M 2.3GHz
RAM2GB DDR3(Expandable Upto 4GB)
Storage500 GB HDD(5400rpm)
GraphicsIntel HD 3000 Graphics
DVD Drive
Camera
Card Reader
Battery
Connectivity
Ports
Weight
Max.Thick
Warranty
Asus Laptop X54C-SX454D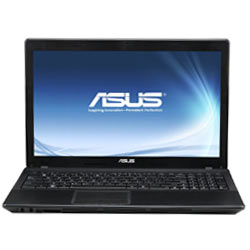 Taiwanese manufacturer Asus has combined performance and style in its latest X series. Ideal for play and work, Asus Laptop X54C-SX454D comes bundled with top-notch features, which make work easy and simple. The black color gives the notebook a classy touch while the textured finish gives an attractive finish. The notebook is equipped with Intel Core i3 2350M(2nd generation) processor and is designed for everyday use.
Asus X54C-SX454D consists of Intel Huron River Core i3 2350M that offers amazing speed and powerful performance. The 2 GB DDR3 system memory and 2.3 GHz clock speed provide users with the ability to multitask. The memory can be expanded upto 4 GB. The 500 GB hard disk capacity allows users to store various things ranging from movies to music, from videos to photographs, and other relevant documents. The DVD RW SuperMulti Drive, which comes with a dual layer support, allows users to write and play all kinds of DVDs and CDs for video and data use.
The innovative IceCool Technology in the notebook protects the palm rest by placing the heat-generating components away. This way user can enjoy comfortable typing experience. Since the typing surfaces and the palm rests are cooler than body temperature, users can work with ease even after longer periods of time. The Palm Proof Technology allows the touchpad to distinguish between the finger and the palm contact preventing unintended cursor movements while typing.
Asus X54C-SX454D has a 15.6 inch screen display that works best for entertainment and office work. With this laptop users can watch videos and movies; browse photographs and images; or even build PowerPoint presentations. The screen resolution is 1366 x 768 pixels that offer fantastic brightness and amazing clarity and the LED backlight display provides amazing user experience. The graphics processor is Intel HD graphics 3000.
Asus X54C-SX454D consists of three USB ports; two USB 2.0 ports and one USB 3.0 port that facilitate easy transfer of data and smart phone sync simultaneously. This way, users can remain connected to the world 24/7 with no interruptions. The HDMI port allows connectivity to different video devices. The notebook offers wireless connectivity via integrated 802.11 b/g/n for internet browsing.
With Asus X54C-SX454D notebook, users can get some amazing multimedia experience, all credit going to the notebook's Altec Lansing speakers and high-definition LED panel. The speakers have SonicFocus fine-tuning software. Be it games, movies, videos, or music, the notebook offers only the best in looks and sound.
Asus X54C-SX454D consists of a 0.3 megapixel camera that offers crisp and crystal clear video chats and photos with superior colors, sharp details, and rich contrast. The notebook is quite portable and measures about 378 x 253 x 35.6 mm and weighs around 2.6 kilograms, which means carrying it around in hand or slipping in it a backpack causes no trouble. The battery lasts upto 3 hours and is backed up by 4 cell battery.
Asus Laptop X54C-SX454D is a perfect blend of style and performance and definitely worth every penny.
Related Laptops