Asus X201E-KX179D
(+) PROS:

Less Weight




(–) CONS:

Value For Money
Asus X201E-KX179D Specification:
OSDOS
Screen11.6inch
ProcessorCeleron 1007 1.5GHz
RAM2GB DDR3
Storage500GB
GraphicsNo Deidcated GFX
DVD Drive
Camera
Card Reader
Battery
Connectivity
Ports
Weight
Max.Thick
Warranty
Asus X201E-KX179D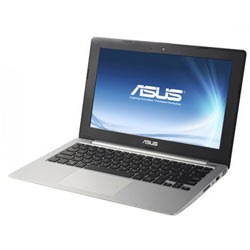 This 11.6 inch celeron processor powered mini laptop from ASUS comes with good rigid body and plenty of connectivity options. The processor is not powerful enough to run graphics intensive programs but well suitable for office related works and Internet browsing. This particular ASUS X201E model is powered by the Intel Celeron 1007 processor with clock speed of 1.5GHz, 2GB of DDR3 RAM and DOS operating system. There is no dedicated graphics on this machine.
The best part of this mini-laptop is the weight which is almost equal to most of the Ulrabooks in the market. The weight is only 1.25KG and the thickness is 3.6cm. It has no Optical disk drive (No DVDRW drive) and there is no bluetooth support on it. But is has WiFi 802.11b/g/n with reasonable signal strength for your Wireless connectivity. For external monitor connections, there are HDMI port and Mini-VGA ports on the sides of the netbook. For high speed data transfer there is as USB 3.0 port.
The display on this mini-laptop is not of superior quality. The brightness and contrast is acceptable and the vertical viewing angle in very narrow. It is not suitable for outside bright lighting particularly under the sun works and for that you may require a shading area. There is a Media card slot on it which supports SD,SDHC,SDXC and MMC cards. The battery is 6 cell type. As the processor consumes very less power, you may expect good enough battery backup time on this mini-laptop.
There are 2 Nos of USB2.0 ports and 2 Combo audio in and out ports for your headphone, speaker out and Microphone in. The is one 10/100Mbps Ethernet (RJ-45) port for wired internet connectivity. The keyboard is a standard one with chiklet keys provides a good typing feel. The keys are not cramped and provides comfortable typing feeling. It has in built web-cam.
Pros
Less weight and highly portable
Less power consuming processor
Good connectivity options
Available in four colors
Good construction
Cons
There is no optical disk drive ( It is common on all mini laptops )
No bluetooth connectivity
No Gigabit Ethernet
Related Laptops