Champion Wbook 102080
(+) PROS:

Cheap & Best




(–) CONS:

Light Weight
Champion Wbook 102080 Specification:
OSLinux
Screen10.1inch
ProcessorIntel ATOM N270
RAM2GB RAM
Storage80GB
GraphicsNo Deidcated GFX
DVD Drive
Camera
Card Reader
Battery
Connectivity
Ports
Weight
Max.Thick
Warranty
Champion Wbook 102080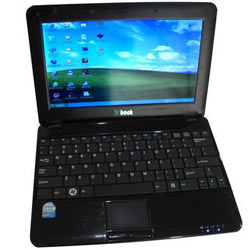 This is one of the cheapest mini laptop available in Indian market with good enough features to run your daily computer needs. Comes with Intel ATOM Processor, 2GB of RAM and 80GB Hard Disk Drive. It is a basic mini laptop with LINUX operating system and 10.1 inch screen. There is WiFi and LAN connectivity for your internet connectivity and USB 2.0 ports for data transfer. There is a 1.3 Mega Pixel front camera which is good enough for video chatting.
This basic and cheap mini laptop weighs only 900grams which is good for travelers.  This is a value for money mini laptop from champion brand.
The only drawback of buying this laptop is the lack of service centers. You have to send the laptop  to the manufacturer directly for warranty repairs and replacements. If you are ok with that, there is no problem of buying this cheap mini laptop.
Related Laptops