Cheapest Mini Laptop in India
(+) PROS:

Cheap & Best




(–) CONS:

Very Light Weight
Cheapest Mini Laptop in India Specification:
OSLinux
Screen10inch
ProcessorIntel ATOM N270
RAM2GB RAM
Storage80GB or 120GB
GraphicsNo Deidcated GFX
DVD Drive
Camera
Card Reader
Battery
Connectivity
Ports
Weight
Max.Thick
Warranty
Cheapest Mini Laptop in India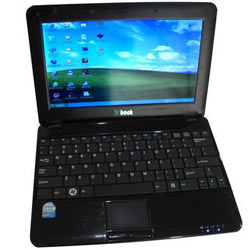 Buy the cheapest mini laptop in India. Available in two models with slight price variation. One with 80GB HDD is  Rs 10400 (Champion Wbook 102080) and the other one with 120GB HDD is Rs 10999(Champion Wbook 102120) . These mini laptops comes with basic configuration and it is fully compatible with Windows XP. 10.2 inch display powered by the Intel ATOM Processor N270, 2GB DDR RAM . This Cheap Mini Laptop is from Champion Brand and it is fully compatible with Windows XP Operating System. Weighing only 900 Grams making this cheap mini laptop a complete portable machine.
1 Year National Warranty
This cheapest laptop is available  for the price of Rs: 10400/- and Rs:10999/-  Only. Price includes TAX and Shipping Charges. There is no extra charges involved.
Specification
10.2" (256.54 mm)TFT Display (1024×600 pixels)

Intel ATOM N270 (1.66Ghz, 533MHz, 512KB)

2GB DDR RAM


80GB or 120GB – 5400RPM SATA Hard Disk Drive

Memory Card Reader (4 in 1 MMC/SD/MS/MS Pro)

Express Card Slot

Wireless LAN

1.3 mega pixel webcam

USB 2.0

DOS / Linux

3 Cell battery

1 Year Warranty
Related Laptops