Compaq Presario CQ57-408TU
Compaq Presario CQ57-408TU Specification:
OSFree DOS
Screen15.6 inch
ProcessorIntel 2nd Generation B960 (2.2 Ghz , 2 MB Cache)
RAM2GB DDR3
Storage320GB
GraphicsIntel HD Graphics
DVD Drive
Camera
Card Reader
Battery
Connectivity
Ports
Weight
Max.Thick
Warranty
Compaq Presario CQ57-408TU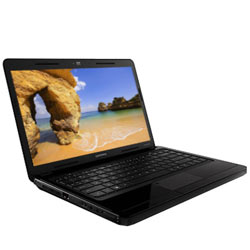 Are you looking for a laptop where you can enjoy a decent audio-visual experience? Are you having some financial crunches and do you want your laptop to be priced low? Well, if your answers are yes, then the Compaq Presario CQ57-408TU Laptop is actually ideal for you. This laptop has an amazing picture quality, coupled with even more amazing picture clarity. This notebook is a perfect combination of technology and style. And, the best part is that, this laptop does not make a hole in your pocket. You can effectively enjoy its advantages without having to pay a huge sum for it. A glimpse of the features
Yes! This laptop has numerous features which are sure to keep you in complete awe of it. The dual core Intel Pentium Processor is one of its main features followed by the amazing LCD screen. The LCD screen is 15 inches and has LED backlight support. This LED support helps the laptop save adequate energy, and, hence the battery does not wear out easily. Along with this, the laptop also has amazing resolutions of 1366×768 pixels which may further lure you to buy this product. It also has a 2 GB memory storage which makes it easier for you to store maximum stuff in your laptop. This notebook comes with a separate Disk Operating System, and, so, you can install your preferred operating system, be it Windows, or Linux on your laptop. It also has an amazing Bluetooth connectivity along with an Ethernet LAN. The Ethernet LAN is highly effective for all those individuals who have to spend long hours with the internet. In fact, this laptop, best suits the purpose of all those professionals who have to travel a lot along with their laptops. This is also ideal for net surfers and movie enthusiasts who usually spend the major portion of their days with the computers.

Is this laptop worth purchasing?
With its amazing features and wonderful support this laptop is indeed a best buy. From students, to working professionals or regular movie lovers; this laptop successfully rules the heart of everybody. In fact many analysts are also of the opinion that you will actually not get a similar laptop at such a cheap range. Hence, this is recommended for one and all. The high quality graphics, amazing webcam and connectivity make it better and appropriate for regular or professional usage. In fact, the weight of this laptop is also comparatively less being only 2.3kgs. Hence, you can carry this laptop with you, everywhere. Hence, if your job involves a lot of travelling, this laptop is totally and perfectly ideal for your purpose. The graphic of this device is actually excellent which thereby enhances your movie watching experience. The high definition video and amazing sound makes it all the more attractive. Altec Lansing Speakers are provided with the laptop which gives an amazing and ostensible sound. The 2nd generation dual core processor of the product also provides prolific advantages of it. This laptop is available in numerous colors, from black to shades of gray. These shades bring about a classic touch to the laptop and make it appear all the more chic.

The advantages associated with using Compaq Presario CQ57-408TU Laptop
From the above features it is actually understandable that, Compaq Presario has numerous advantages. One of its major and most significant advantages is the presence of dual core processors in the laptop. These dual core processors are beneficial and purposeful under all respects. Again, you also get an amazing high definition picture quality with this notebook. The picture quality eases and pleases your eyes and is really very beautiful. The storage space is sufficient for most tech-savvy individuals, professionals and students. Again, you also get a 320 GB SATA hard disk drive with this device which is upgradable. This laptop is also very beneficial for all those individuals who have video conferences with their friends or have to initiate video calls due to professional reasons. The camera is perfect and the battery life helps you continue with thorough and long conversations. The built-in microphone is also pretty good and has an amazing sound clarity. On, the whole this device is highly beneficial and is definitely worth purchasing.

Does this laptop have a warranty?
Yes! HP provides you with a 1 year warranty for this laptop. During the mentioned period of time, the company itself will bear all the expenses for any damage experienced by your notebook. Moreover you can also extend the warranty by paying a specific amount of money. An extended warranty will help you enjoy the device better. The notebook comes with a box which contains the adapter, user-guide and manual which are sure to help you in using it. Hence, Compaq Presario CQ57-408TU is definitely a best buy if you wish to purchase a laptop with myriad, purposeful features, coupled with an economical price range.
Related Laptops