Dell Inspiron 14 SE(N7420)
Dell Inspiron 14 SE(N7420) Specification:
OSWindows 7 Professional
Screen14" WLED Screen
ProcessorIntel Core i5(IVy Bridge)Processor
RAM4GB DDR3 RAM
Storage500GB Hard Disk Drive
Graphics2GB Dedicated Graphics
DVD Drive
Camera
Card Reader
Battery
Connectivity
Ports
Weight
Max.Thick
Warranty
Dell Inspiron 14 SE(N7420)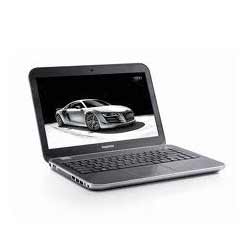 Power your favorite movies, games, and music with 3rd Generation Intel Core of i5-3210M processor, 4 Giga Bytes of RAM, Windows 7 Genuine Home Premium and also with other opportunities. The Dell Inspiron 14 SE (Special Edition) balances with multi-core processing with proficient power use. The exterior part of Dell is well frame with anodized aluminum with matching palmrest; Dell Inspiron 14 pairs the finest look with portability demand. The specifications of Dell Inspiron SE are quite impressive and exclusive with elegant technical designs. The Windows 7 is the optimum operating system for the Dell Inspiron model and the maximum resolution of display is about 1366 x 768 pixels. The HD WLED True-Life is the screen type of Dell Inspiron SE with the inches of 14.0. Apart from this, the Dell laptop is inbuilt with 500 GB capacity of hard disk drive.
Save Your Power via 6-Cell Battery
The processor speed of Dell Inspiron 14 SE is mostly 2.50 GHz with turbo boosts up to GHz of 3.10, called 3rd Generation i5-3210 Intel Core Processor. The normal cache memory of the processor is up to 3 MB. Apart from this, the Dell Inspiron special edition endows a 34mm EC card slot, mini DP, USB 2.0 x 2, VGA, RJ45, 12,5mm DVD burner optical drive, smartcard slot are also available. In addition to that, the Wi-Fi connection is access up to 802.11b/g/n in Dell Inspiron 14 SE. The battery life of the Dell Inspiron will leads up to 3 hours and the type is 6-cell 48WHr Li-Ion battery. The Inspiron is well equipped with an adapter power of 170W to ensure the high level of performance. It will be very useful and effective for your official and commercial purpose with reliable price. Apart from this, you will consume the power and money with the use of power-consume battery life.
Related Laptops