Dell Inspiron 15
Dell Inspiron 15 Specification:
OSWindows 8
Screen15.6" LED Screen
Processor3rd Generation Intel® Core™ i3-3110M processor (3M Cache, 2.40 GHz)
RAM4GB DDR3 RAM
Storage500GB Hard Disk Drive(5400 SATA Hard Drive)
GraphicsIntel® HD Graphics 4000
DVD Drive
Camera
Card Reader
Battery
Connectivity
Ports
Weight
Max.Thick
Warranty
Dell Inspiron 15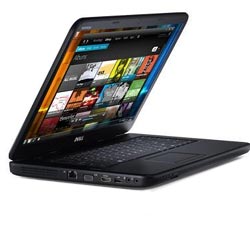 This Dell Inspiron 15 model is best priced for day to day computer users who seek good performance with the latest operating system. There is no dedicated graphics but the in-built Intel HD graphics 4000 and the 4GB DDR3 RAM is well enough to run this Windows 8 powered laptop smoothly for normal use. With an average build quality with well selected parts it is best suitable for home use and for students.
Related Laptops