Dell Inspiron 15r
Dell Inspiron 15r Specification:
OSWindows 8
Screen15.6" HD WLED Screen
Processor3rd Generation Intel® Core™ i5-3210M processor (3M Cache, up to 3.1 GHz)
RAM4GB DDR3 RAM
Storage500GB(5400RPM SATA Hard Drive)
GraphicsIntel® HD Graphics 4000
DVD Drive
Camera
Card Reader
Battery
Connectivity
Ports
Weight
Max.Thick
Warranty
Dell Inspiron 15r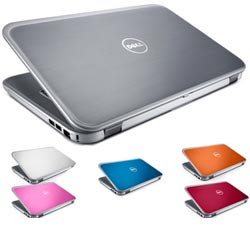 Another Dell Laptop for users who need more computer power. Comes with the latest Windows 8 single language operating system powered by 3rd Generation Intel Core i3 3201M processor. Even there is no dedicated graphics available on this laptop, with the in-built Intel HD graphics 4000, you will feel much faster and smooth experience in using the Windows 8 OS. The RAM is only 4GB and the Hard disk drive is 500GB. A well built laptop with good processor and reasonably priced.
Related Laptops