Dell inspiron 15R(5110)(Core i5-2450M)Processor
Dell inspiron 15R(5110)(Core i5-2450M)Processor Specification:
OSWindows 7 Home Basic
Screen15.6" WLED Screen
ProcessorIntel Core i5-2450M Processor(2nd Gen)
RAM4GB DDR3 RAM
Storage1TB Hard Disk Drive
Graphics1GB ATI Graphics
DVD Drive
Camera
Card Reader
Battery
Connectivity
Ports
Weight
Max.Thick
Warranty
Dell inspiron 15R(5110)(Core i5-2450M)Processor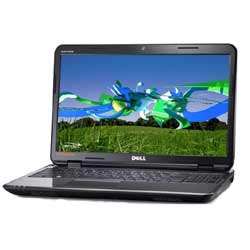 DELL INSPIRON 15R seems to be the latest generation with advanced features like "Sandy Bridge" inter core processors is installed in it. The well designed stylish notebook is abruptly manufactured with powerful integrated discrete graphics or specialized AMD Radeon graphical resolution that abruptly suits for heavy graphical games. The extraordinary specifications like, the hard drive memory up to 500 GB with enormous RAM value of 5400 HDD, and 64 bit windows 7 premium home mode. The specialized feature in it is, HD integrated Intel graphics and 6 GB memory withDDR3 version and 1333 MHZ. The laptop has the most effective i5 Intel core with the processor value of 2450M at 2.3 GHZ turbo boost technology along with 3 MB cache and 2.9 GHZ value. The most enchanting feature in DELL INSPIRON 15R, its light weight that comes around 5.84 lbs and cool colors, attract the buyers considerable, the cuts in corners with edge cutting technology adds more beauty to the laptop.
Mesmerizing performance
The resolution of DELL INSPIRON 15R is also very high when compared to previous versions of DELL. The high resolution, gives a crystal clear picture of refined quality with the value of 1366×768. Superior display options with extraordinary backlighting are endowed by the DELL with LED display screen. The dimensions come around 15.6 X 9.6 X 1.23 inches with Bluetooth connectivity. The data connectivity sounds outstanding with fast downloads in a single click with 10/100 Ethernet connectivity. 802.11n wireless connectivity is also made available by DELL INSPIRON 15R. The battery performance is outstanding when compared to other batteries. This incredible second generation 6 cell, 48WHr battery is made from Li-ion. The RAM memory counts up to 4 GB for efficient performance and also equipped with 1 GB card along 15M McAfee installation. The installation of 8 X DVD/CD burners in DELL INSPIRON 15R is an enchanting feature with both read and writes option.
Related Laptops