Dell Inspiron 15R Series(5520)(1TB)
Dell Inspiron 15R Series(5520)(1TB) Specification:
OSWindows 7 Home Basic
Screen15.6" WLED Screen
ProcessorIntel Core i5-3210M(IVy Bridge)Processor(3rd Gen)
RAM4GB DDR3 RAM
Storage1TB Hard Disk Drive
Graphics1GB ATI Graphics
DVD Drive
Camera
Card Reader
Battery
Connectivity
Ports
Weight
Max.Thick
Warranty
Dell Inspiron 15R Series(5520)(1TB)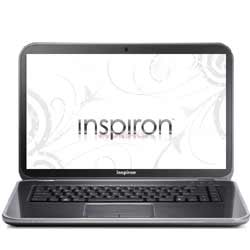 The Dell INSPIRON 15R is designed with the 3rd Generation Intel core i5 processor to deliver high quality performance support to the user. The Dell 15R is very cheap, but it contains all the advanced specifications including the 39.6 High Definition Display and 1 TB hard disk capacity. The Dell Inspiron is extremely light in weight, so that the user can carry the lap in one hand without any strain. The experience of listening music is pleasant with the new 15R Inspiron. The sound quality of the system is improved with the implementation of advanced Waves MaxxAudio 3.0 technologies. The keyboard is very broad and spacious which allows quick typing. The Dell INSPIRON 15R is designed with multiple ports on both sides including the four 3.0 USB ports, headphone, VGA connection, a DVD loading tray, Ethernet, microphone jacks and HDMI.The front side of the system contains the port for 8-in-1 memory card reader and it supports Bluetooth 4.0.
High battery life
The webcam in Dell INSPIRON 15R is capable of supporting 1280×720 pixels and the images look sharp and clear with the 720p HD camera. The performance of the Inspiron inspired everyone with its advanced features. The 15R Inspiron battery is made of Lithium Ion which is capable of lasting around 5 hours and the battery of Inspiron lasts for longer time than any other batteries. The Dell INSPIRON 15R is suitable for kinds of applications including the Adobe Photoshop Elements 9 and the user can access any media in short time. The Inspiron 15R is extremely stylish in look with the rounded corners, colourful plastic lid and polished aluminium deck. The screen is extremely wide in the order of 15.6" which gives the effect of watching videos on big screen. The Dell INSPIRON 15R system is preloaded with some basic software such as the McAfee- the anti-virus software, Skype for supporting the video chat and dell DataSafe.
Related Laptops