Dell Inspiron 15RSeries(5520)
Dell Inspiron 15RSeries(5520) Specification:
OSWindows 7 Home Basic
Screen15.6"WLED Screen
ProcessorIntel Core i5-3210(IVy Bridge)Processor
RAM4GB DDR3 RAM
Storage500GB Hard Disk Drive
GraphicsNo Dedicated Graphics
DVD Drive
Camera
Card Reader
Battery
Connectivity
Ports
Weight
Max.Thick
Warranty
Dell Inspiron 15RSeries(5520)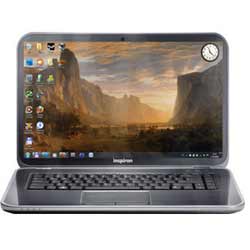 The recent launch of DELL in the current year is DELL INSPIRON 15R 5520, this notebook has an extraordinary graphical effect with the value of 4000 processor graphics and Intel HD are implemented for shrewd performance. The high resolution software installed in the laptop delivers crystal clear images with the value of without any compromise. The battery lifespan last long for about four hours and fifty six minutes, with the installation of 6 cell lithium ion battery. Many types of software are pre installed in the DELL laptop including Microsoft starter as well. Many types of software like PhotoStage, Music Stage, Vdeostage and nine more useful applications are installed in the laptop with direct link on the desktop. The extraordinary feature here is, complementary applications like DELL application stage for accessing DELL INSPIRON 15R to all certified DLNA devices. The highly efficient processors like third generation Intel Ivy Bridge and I5 core version of 3210 with an internal RAM of 4GB.
Flamboyant data transfer and profound specifications
The hard drive consists of 500 GB of mass storage with 15M Mcfee preinstalled while buying. This stylish DELL INSPIRON 15R has a strong inbuilt screen with mind blowing audio processor and windows centre for mobility displayed in the left corner for adjusting system settings. The keys installed in the keyboard are very genuine and explicitly placed in the correct locations. The implementation of ELAN touchpad with the size if 100X58 mm is highly sensitive by a feather touch and is heavily spacious. The presence of inbuilt DVD burners with four USB ports of version 3.0 is an additional feature in this DELL INSPIRON 15R. The implementation of SD card reader, HDMI, VGA and separate jacks for headphone and microphone are the added features. Installation of Ethernet, Bluetooth with advanced versions and the presence of WIFI Wireless N 2230 adapter in DELL INSPIRON 15R makes the laptop more enchanting.
Related Laptops