Dell Inspiron 17 SE(N7720)
Dell Inspiron 17 SE(N7720) Specification:
OSWindows 7 Home Premium
Screen17.3" WLED Screen
ProcessorIntel Core i5-3210M(IVy Bridge)Processor
RAM4GB DDR3 RAM
Storage1TB Hard Disk Drive
Graphics2GB ATI Graphics
DVD Drive
Camera
Card Reader
Battery
Connectivity
Ports
Weight
Max.Thick
Warranty
Dell Inspiron 17 SE(N7720)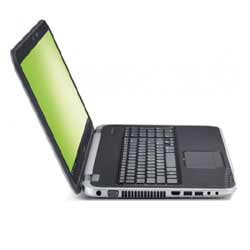 In this modern world, every person will like to get the special applications on their laptops with an exceptional quality and features. Now, the Dell INSPIRON 17 SE laptops are the best option for that wish, which offers the outstanding applications to the users without any restrictions. This new Ultra-book is designed with the third generation Intel i5 chips which offer the internal memory capacity to the users up to 4GB. From this efficient Inspiron 17 SE-Intel IVB 3210M processors, the users can get the instant updates from one page to another page within a fraction of seconds. And the exterior design of this SE laptop model is really amazing than the other models of Dell INSPIRON 17 SE. The outlook design of this gadget includes the 17.3 inch wider display screen, which provides the high definition view into the pictures and text images in an eye-catching manner. The users can get the feel of unlimited excitement while watching the video files and movies in this wider display screen. This invention is made with the edge-to-edge covered accessories that confer the smooth and glossy look into the system framework.
Memory usage and convenient accessibility
This brilliant Ultra-book model of the Dell INSPIRON 17 SE series is designed with the window 7 home premium feature that includes the number of inbuilt software applications with an easy mode of usage. So, the customers need not install the basic software which is required for the general windows applications. All of these software tools are easily accessible by users via efficient Dell INSPIRON 17 SE user guides. And the customers can obtain the download and upload facilities instantly by using the instant high-speed network access facility. This Dell INSPIRON 17 SE feature also combines with the straightforward accessibility of USB and memory card usage with exciting traits
Related Laptops