Dell vostro 3550(Core i3 2310M Processor)
Dell vostro 3550(Core i3 2310M Processor) Specification:
OSWindows 7 Home Basic
Screen15.6"HD WLED Screen
ProcessorCore i3 2310M Processor(2nd Gen)
RAM2GB DDR3 RAM
Storage500GB Hard Disk Drive
Graphics1GB ATI Graphics
DVD Drive
Camera
Card Reader
Battery
Connectivity
Ports
Weight
Max.Thick
Warranty
Dell vostro 3550(Core i3 2310M Processor)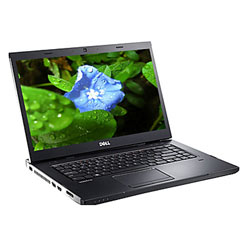 The launch of new 3550 comes from the house of a remarkable company named DELL at an affordable price. This stylish embedded design of DELL 3550gives you the feel of using a modernized technology with stunning performance and multi-tasking abilities. With the advanced operating systems people are able to share documents, videos and music. The implementation of upgraded matt finish interior and exterior panels secures the laptop form fingerprints and dust. The installation of multi touch gesticulation in touchpad makes the navigation and operation faster and elegant. This lightweight laptop weighs around 5.5 lbs with the dimension of 14.8X10.2X1.4 inch, which is literally used for entertainment purpose. This incredible DELL 3550 is equipped with 15.6 inch display of HD mode and WLED technology delivering a high resolution valued up to 1366X768 pixels. The Intel processor is equipped with advanced technology named turbo boost from Intel.
Advanced settings for easy usage
For the smart performance hyper reading technology is also installed in DELL 3550 with high RAM memory of 4 GB DDR3 and this memory can also be upgraded to 6GB through memory slots of dual mode. The highly efficient processor of the second generation has Intel Core i3 of 2350 M with 15.6 inch display. The OS with windows 7 basics along with full warranty of about one year are given. The hard drive comprises of enormous storage data that valued up to 500 GB. The installation of anti-glare technology concept enhances the user to work at outdoors. DELL 3550 has eight in one card reader, with DVD drive; presence of three USB ports of version 2.0 is also an additional feature. The HDMI ports transfer all HD audio and video data's. The webcam has a pixel value of 1.3 megapixels with inbuilt microphone. For easy transfer of data wirelessly, Bluetooth of latest versions 3.0 are installed with HS technology in DELL 3550.
Related Laptops