Dell Vostro 3560 Laptop
(+) PROS:

For IT Students




(–) CONS:

Developers
Dell Vostro 3560 Laptop Specification:
OSDOS
Screen15.6inch
ProcessorCore i3 3rd Generation
RAM4GB DDR3
Storage500GB
GraphicsIntel HD 4000
DVD Drive
Camera
Card Reader
Battery
Connectivity
Ports
Weight
Max.Thick
Warranty
Dell Vostro 3560 Laptop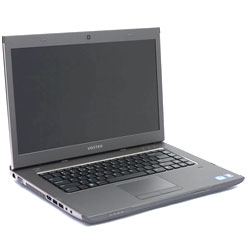 This sturdy bodied laptop from Dell is powered by the 3rd Generation Core i3 processor which is 3210M and comes with the DOS operating system and Finger Print Reader. The RAM is 4GB and the Hard disk drive is 500GB. The display size is 15.6inch.
The built quality of this Dell Vostro 3560 is strong and sturdy with smooth surface finish which is not slippery. The quality of the built material gives good feeling while holding this laptop even though the weight of this one is heavy. The keyboard one this laptop will give you very good touch experience while comparing other laptops in this same price range.
The system inbuilt memory of 4GB could be expanded to 8GB with the additional memory slot which is unused. The display produce crisp and bright images which is 15.6inch, 1366 x 768 Pixel HD Anti-glare  Wide Display.
There is no dedicated graphics on this machine. However the Intel's integrated HD 4000 graphics will be more than sufficient in most of the cases. This laptop comes with DOS operating system and Windows 8 will run on this machine smoothly without any trouble. There is Finger Printer Reader on this laptop. There is no DVDRW drive on this laptop.
The Bluetooth is 4.0 type and the WiFi is 802.11 b/g/n type. The LAN connection is a Gigabit one for fast networking data transfer. There are HDMI and VGA ports for external display connection and 4 nos of USB 3.0 ports are also available on this.
This one is the best choice comes with features aimed at people who looks for an affordable Core i3 3rd Generation processor powered laptop without OS and DVDRW Dirve to cut down the cost. Excellent for IT Students.
 Advantages
Two RAM Slots
Bluetooth
USB 3.0
HDMI
Finger Print Reader
Sturdy Body
Excellent Keyboard
8 in one card reader
Related Laptops