HP 1000-1204TU
HP 1000-1204TU Specification:
OSWindows 8
Screen14" Brightview LED Display
ProcessorIntel Celeron B830 Processor
RAM2GB DDR3 RAM
Storage500GB Hard Disk Drive
GraphicsIntel HD Graphics
DVD Drive
Camera
Card Reader
Battery
Connectivity
Ports
Weight
Max.Thick
Warranty
HP 1000-1204TU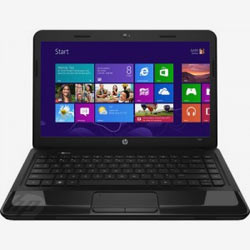 If you are looking for a Laptop with basic features and with a Laptop Price in the range of Rs-25000, this HP1000-1204TU Laptop is the right choice. The features are perfectly sculptured to fulfill the basic needs of daily computer user. It comes with 14inch display and with Windows 8 OS. The processor is a Intel Celeron B830 1.8GHz, which is good enough to power this laptop for light processing. Document editing, Photo Editing and Internet Browsing are all not a big issue on this machine.
As you are running Windows 8 OS, an upgrade of the memory to 4GB (Upgradable up to 8GB)will help this laptop run smoothly is you are a heavy Internet user often keep opens a lot of browser tabs.
PROS of HP 1000-1204TU
Very Attractive Price
No compromise in build quality
Windows 8 OS
Good connectivity options
CONS of HP 1000-1204TU
Less Memory ( Not a big issue. You can upgrade it at any time. An Additional 2GB RAM will cost you only Rs-800)
Weak Processor ( Not a big issue, if you are not a heavy lifter)
Overall this HP 1000-1204TU Laptop is a best value for money offering from HP with good after sales support. Highly recommended to buy.
Related Laptops