HP 200-4301TU
HP 200-4301TU Specification:
OSFree DOS
Screen10.1 inch HD LED
ProcessorAtom Dual Core N2600 1.6GHz
RAM2GB DDR3
Storage320GB
GraphicsIntel Graphics 3600
DVD Drive
Camera
Card Reader
Battery
Connectivity
Ports
Weight
Max.Thick
Warranty
HP 200-4301TU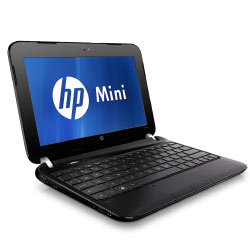 This is the latest HP mini laptop offer which comes with 10.1 inch screen and poswered by the Dual Core ATOM N-2600 processor. This HP Mini 200-4301TU Netbook very thin and easy to carry with essential features packed at an affordable price. Best suitable for daily computer use and who travels a lot. It comes with DOS OS which is not an ideal OS. But, you may install PC Linux OS which works out of the box for all your computing need.
The design of this HP Mini 200 4310TU looks new,stylish, strong and durable. The build quality of this mini laptop is highly appreciable. Weighing only 1.38Kgs this is one of the best and reliable laptop to carry to places. The physical dimension of this mini is 19.1 x 26.8 x 3.26 cm, not so thin.
The display is not too bad as well. It gives reasonably good viewing angle. The WSVGA anti glare LED back lit display delivers good brightness and clarity at the resolution of 1024×600 pixels. The inside comes with a mate finish which is eye pleasing and comfortable to work. The keyboard is good as well, designed with care to minimize typing errors considering the reduced size of the normal keyboard. The response while using the touchpad is good and without and jumping cursors which is great with the Multi Gesture support it provides at this price. Navigation with this tochpad is not at all a difficult task and you may not need to purchase a separate normal scrolling mouse as in cases like most of the cheap laptops comes in to the market nowadays.
Generally what people expect from a cheap laptop is a reasonable speed without any hardware failure. HP in this machine did not compromised anything to unsatisfying user experience. The Intel 2nd Generation Dual Core 1.6 GHz ATOM Processor N2600 is quiet enough to operate programs of general use. There is not problem of using an Office program  or Browsers for Internet usage on this laptop, as the processor comes with the 1MB of L2 cache.
The maximum memory this netbook allows is 2GB with the single memory slot which is already comes with the 2GB RAM module. So, there is no chance for  memory expansion on this machine. The HDD is 320GB with an RPM of 5400, which is not so special. However the hard disk capacity is quiet good enough to store your data. The in built graphics which is Intel Graphics Media Accelerator 3600 is good enough to play less intensive games and watching 720P HD videos. The picture quality while watching the movies is not so immediately complainable except the size which matters in most cases.
It is also a perfect entertainment machine. First of all the speakers on it is good to hear without any annoying noise, that is great to listen to music and watch movies without a separate head phone. To chat with your friends and relatives, there is a 0.3 Mega pixel camera, which delivers clear video at low resolution, quiet acceptable for a video chat.
There are numerous connectivity features on this min laptop to connect to additional devices without any trouble. There are 3 Nos of USB2.0 ports at its side and  there is RJ45 for Internet connection. There is MIC in/ Audio out jack. The Multi card reader is a 5-in-1 reader type.
There is no USB 3.0 port and HDMI port on this laptop which is a drawback. Also, the is no DVD writer drive on this mini laptop like others.
The battery is a 6 Cell Li-Ion type which gives adequate battery backup.
Overall, if you consider buying a mini laptop at an affordable price, you better select this model, as it is not only from a reputed laptop manufacturer. But, the overall feature and build quality of this laptop makes it a perfect mini laptop with great reliability which is essential in most business needs.
Related Laptops