HP 2000-2209TU
HP 2000-2209TU Specification:
OSGenuine Windows 8
Screen15.6" Brightview LED Display
ProcessorIntel Dual Core B980 Processor
RAM2GB DDR3 RAM
Storage500GB Hard Disk Drive
GraphicsNo Dedicated Graphics
DVD Drive
Camera
Card Reader
Battery
Connectivity
Ports
Weight
Max.Thick
Warranty
HP 2000-2209TU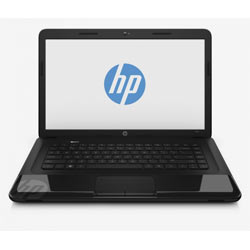 A cheap budget laptop from HP with Windows 8 Operating system and 15.6inch display. This is a basic laptop and highly recommended as it comes with all the necessary features and most of all it comes bundled with the Windows 8 OS. The Intel Pentium Dual Core Mobile Processor B980 is not a heavy lifter, but it can give you the power to run most of the programs for the daily tasks like Internet browsing and document editing without and lag in performance.
Playing light flash games and watching HD videos are not a big issue on this laptop. It comes with 2GB of DDR3 RAM and 500GB of Hard disk drive. The bundled memory is expandable up to 8GB if you need to open multiple browser tabs in some instances. The 2GB won't be enough to open multiple browser tabs and programs and in those situations you may need to upgrade the memory which will not cost you much.
The build quality of this laptop is above average gives a sturdy hard feeling while holding it in hand. The keyboard and the touch pad input feels good. No one could complain about the quality of the hardware in this machine.
Apart from the main features which are really attractive a t this price, this HP2000-2209TU comes with a whole set of connectivity options. It comes with HDMI, WiFi and Bluetooth connectivity on board.
The on board speaker which is Altech lansing sounds good. Quiet enough to listening to music and watching movies.Overall this laptop with 15.6 inch display is a best value for money budget laptop from HP. Very affordable and packed with all the necessary features with a HP warranty of 1 Year.
Related Laptops