HP Laptop -1000 1106TU
HP Laptop -1000 1106TU Specification:
OSWindows 7 Home Basic
Screen14 inch HD LED
ProcessorIntel Celeron Dual Core 1.7GHz
RAM2GB DDR3 RAM
Storage320GB (5400RPM)
GraphicsIntel HD Graphics
DVD Drive
Camera
Card Reader
Battery
Connectivity
Ports
Weight
Max.Thick
Warranty
HP Laptop -1000 1106TU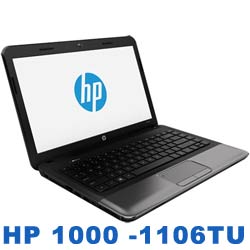 If you are looking for a basic laptop which come under the price of Rs-25000, this one is the best offer from HP. Comes with 1.7 GHz Intel Celeron Dual Core processor and with 2GB of DDR3 RAM. Why we call it this is the best offer is, with in this price range it is really difficult to find a laptop comes with Windows OS. This Laptop in Windows 7 Home Basic (64 Bit) pre installed, that is really excellent feature to look. Comes in Blcak Licorice color with good finish and with multitouch gesture supported touchpad with on/off button on it. The display of this laptop is excellent. Hp did not compromised the quality as the price is low. The 14 inch HD Brightview LED backlitted display (1366×768 pixels of resolution) is producing excellent colors with good viewing angles.
Have support for memory expansion up to 8GB so that it is possible for expand the memory using the available one more user accessible memory slot. Apart from that you have HDMI out and VGA out for your external maonitor connectivity. The WiFi support 802.11 b/g/n and the Local Network card  is a 10/100/1000 Gigabit Ethernet. Have Bluetooth also.
The optical drive is SuperMulti DVD Burner and the HDD is 320GB SATA (5400 rpm).
What you need more from a laptop from a reputed company and in a affordable price. We highly recommend this laptop for computer users who are looking for a laptop for Internet browsing and basic document editing features.
Related Laptops