HP 2000-2106TU
(+) PROS:

Very Basic




(–) CONS:

Beginners
HP 2000-2106TU Specification:
OSDOS
Screen15.6 inch
ProcessorPentium Dual Core B830
RAM2GB DDR3
Storage500GB
GraphicsIntel HD Graphics
DVD Drive
Camera
Card Reader
Battery
Connectivity
Ports
Weight
Max.Thick
Warranty
HP 2000-2106TU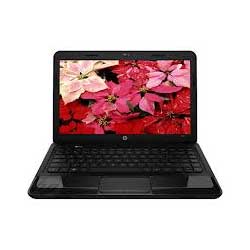 A cheap priced well built quality laptop from HP without Windows OS. This is a basic laptop without much processing power. It comes with the Intel Celeron Dual Core processor with a speed of 1.8GHz and 2GB of DDR3 RAM. There is no dedicated graphics processor and the inbuilt Intel HD Graphics is quiet enough to play 1080P videos. Not good for playing intensive games and multitasking. For normal use like document editing on an office application, listening music, browsing internet and playing some videos are not a big problem.
If you install a light weight Linux program on this machine, you will really enjoy the speed of this laptop.
For this cheap price, you have a lot of features packed on this HP 2000-2106TU Laptop. It has most of the well used connectivity options without any compromise in quality. The build quality of this laptop is really good. The memory is only 2GB but it expandable at any time. It has dual layer DVD writer, HDMI and WiFi.
It is a perfect laptop below Rs-25000 with 15.6 inch display. Highly recommended to buy.
Related Laptops