HP Laptop Pavilion 15-B001TU
(+) PROS:

Best Performance




(–) CONS:

Design Students
HP Laptop Pavilion 15-B001TU Specification:
OSWindows 8
Screen15.6 inch
ProcessorCore i5-3rd Gen
RAM4GB DDR3 RAM
Storage750GB
GraphicsNo Dedicated Graphics
DVD Drive
Camera
Card Reader
Battery
Connectivity
Ports
Weight
Max.Thick
Warranty
HP Laptop Pavilion 15-B001TU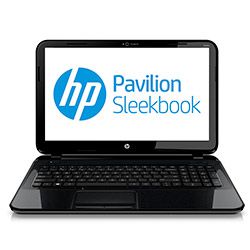 Hp Pavillion 15-B001TU is a Sleekbok which is light in weight and slim in look. If you are looking for a laptop with good build quality, stylish look and with excellent warranty, this Sleekbook will suit you in different aspect.
Powered by the Intel 3rd Generation Core i5 Processor and Intel HD 4000 in-built graphics. Windows 8 OS runs on this machine smoothly. There is only one 4GB DDR3 RAM on this machine. Weighing approx 2.10KGs. The 4 Cell battery is not a good option for long time running it on battery. You have a variety of ports at both sides of this laptop for different connectivity options.
The island style full size keyboard with numeric keys aids comfortable typing experience while the multi gestured touch pad gives easy navigation capability.
HP Pavilliion 15-B001TU is for the ones who need more power and storage capacity with different connectivity options. HP did a wonderful job on designing this laptop for durability, stylish look and great hardware configuration.
There is no DVDRW Drive on this laptop
Related Laptops