HP Laptop Pavilion 15-B002TU
HP Laptop Pavilion 15-B002TU Specification:
OSFree DOS
Screen15.6" HD LED Screen
ProcessorIntel Core i3-3217U Mobile Processor(3rd Gen)
RAM2GB DDR3 RAM
Storage500GB Hard Disk Drive
GraphicsIntel HD 4000
DVD Drive
Camera
Card Reader
Battery
Connectivity
Ports
Weight
Max.Thick
Warranty
HP Laptop Pavilion 15-B002TU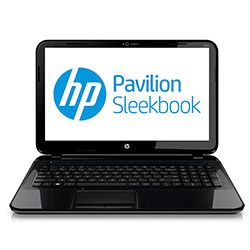 A Sleekbook from HP with Intel 3rd Generation Core i3 processor and 15.6 inch HD display. With slim look and sturdy body material, HP Pavillion 15-B002TU is a perfect laptop for normal daily usage. This laptop is not comes with Windows 8. The 2GB RAM and No Operating system are its drawback. If you are looking for a basic laptop with good build quality without an OS, this is the right one. You have a separate numeric keys on this laptop. Weighing only 2.10Kgs is considerably light. There are USB 3.0, USB 2.0 and HDMI ports on the sides. There is also a multimedia card slot to read and write on your SD and MMC cards.
The Intel HD 4000 in-built graphics is quiet enough to watch high resolution encoded videos and to play basic 3d Games. The battery is only a 4 cell Li-Ion type and you could not expect long battery life on this machine.
For this price, you need to look into this laptop is because of the build quality, light weight and slim look.
Related Laptops