HP Pavillion 15-B003TU
(+) PROS:

Very Basic




(–) CONS:

Daily Use
HP Pavillion 15-B003TU Specification:
OSDOS
Screen15.6 inch
ProcessorPentium Dual Core -987 (2nd Gen)
RAM2GB DDR3
Storage500GB
GraphicsNo Dedicated graphics
DVD Drive
Camera
Card Reader
Battery
Connectivity
Ports
Weight
Max.Thick
Warranty
HP Pavillion 15-B003TU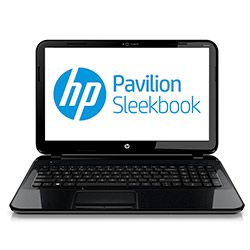 If you are looking for a basic laptop below Rs-25000 without Windows 8 OS pre-installed, this Sleekbook from HP should be your best choice. It is not actually a powerful laptop. The processor is a 2nd Generation Intel Pentium Dual Core Processor with a clock speed of 1.5GHz, which is quiet enough to run most of the document and photo editing software and for Internet browsing. Playing a 720P video is also not a big issue, but for games this is not a perfect choice. As you are sharing the graphics processing with the main processor, the dual core processor built on this laptop may not good enough to give you best game playing experience.
You need to notice the fact that, there is no DVD Drive on this machine. Looking at the price, we could sacrifice this feature if we don't need it desperately. It is always possible to buy and use an external DVD writer via the high speed USB 3.0 Ports.
There is HDMI, WiFi and Memory card reader slot on this laptop. In total, this is a perfect laptop if you are in a budget to spend below Rs-25000.
PROS
Sleek and Stylish look
Good build quality
It has most of the latest well used fetures like HDMI, WiFi 802.11 b/g/n, USB 3.0, Card Reader and Bluetooth
Price below Rs-25000
CONS
No OS
No DVDRW Drive
4Cell Li-Ion battery
No Dedicated Graphics
Related Laptops