HP Mini 110 -3605TU
HP Mini 110 -3605TU Specification:
OSFree DOS
Screen10.1" LED Backlit Widescreen
ProcessorIntel® Atom N570 Dual Core 1.66GHz
RAM1GB DDR3 RAM
Storage250GB HDD
GraphicsIntel® Graphics Media Accelerator 3150
DVD Drive
Camera
Card Reader
Battery
Connectivity
Ports
Weight
Max.Thick
Warranty
HP Mini 110 -3605TU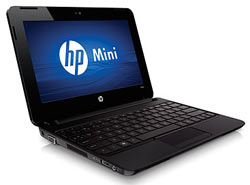 Many stylish, attractive with beautiful colors, and portable laptops are provided by Hp. All this laptops is having a great technical features and specification that make HP laptops more popular in market. Among all this laptops the one is HP Mini 110 -3605TU.
The HP Mini 110-3605TU is stylish and attractive notebook with many technical features and specifications it is having DOS free operating system, RAM of 1 GB is available, has hard disk of 250 GB. And most importantly it is having display screen of 10.1 inch on such a wide screen laptop people like to watch movies and pictures with family, it is having good audio and video quality, it is having dimension of 19.1 * 26.8 * 2.28 CM, having weight of 1.4 Kg.
The HP Mini 110-3605TU comes in beautiful Glossy black color which provide attractive look to the laptop and people like to carry such a wide screen and beautiful looking laptop. There are many technical features available as illustrated below.
Related Laptops