HP Mini 110 -3606TU / 110 – 3607TU
HP Mini 110 -3606TU / 110 – 3607TU Specification:
OSFree DOS
Screen10.1" LED Backlit Widescreen
ProcessorIntel® Atom N570 Dual Core
RAM2GB DDR3 RAM
Storage320GB
GraphicsIntel® Graphics Media Accelerator 3150
DVD Drive
Camera
Card Reader
Battery
Connectivity
Ports
Weight
Max.Thick
Warranty
HP Mini 110 -3606TU / 110 – 3607TU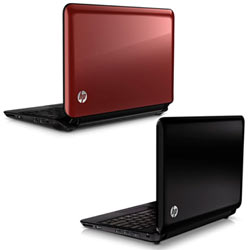 The HP laptops provide various series of laptops with all having great features and attractive looks. All Hp laptops are having an excellent feature that provides people comfort in using.  All Hp laptops because of its great and fast processor speed, they are famous in the market.The HP Mini 110 -3606TU and 110-3607TU are one of the great featured laptops available in market with both having an attractive look.
The only difference between the two laptops is that the HP Mini 110-3606TU comes in beautiful glossy black color and HP  Mini 110-3607TU comes inSonomared color. Because of this attractive  look people like to carry such a laptop.
HP Mini 110-3606TU and 110-3607TU has System memory of 2 GB and extendable memory of 2 GB. It is having hard disk capacity of 320 GB, and it is having one memory slot. Display screen of 10.1 inch is available, people like to work on such a wide screen laptop and having a display screen resolution of 1024 * 600 pixels.  The most important thing is about its processor, it has Intel Atom Dual core N570 processor installed which is fastest speed processor.
Because of all this features it is famous and popular in market.
Related Laptops