HP Pavilion 14-B003TX Ultrabook
(+) PROS:

Best Performance




(–) CONS:

HDD + SDD
HP Pavilion 14-B003TX Ultrabook Specification:
OSWindows 8
Screen14inch
ProcessorCore i3 3rd Gen
RAM4GB DDR3
Storage500GB HDD+32GB SSD
Graphics1GB Dedicated Graphics
DVD Drive
Camera
Card Reader
Battery
Connectivity
Ports
Weight
Max.Thick
Warranty
HP Pavilion 14-B003TX Ultrabook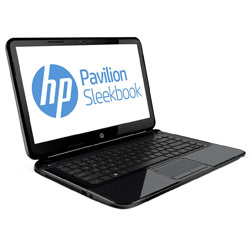 An Ultrabook from HP Pavillion Sleekbook range with 3rd Generation Core i3 Processor, 1GB Dedicated Graphics and 32GB of SSD Drive. A cheap Ultrabook from HP with Windows 8 Operating system and 4GB of DDR3 RAM. The 500GB of hard disk drive gives additional storage while the SSD drive helps to boost the starting time.
The build quality of this laptop looks very strong compared to other brands. The dura-coat island style keyboard without numerical keyboard is very comfortable to type. The typing response received on this keyboard is highly noticeable. The best part of this laptop is the SSD drive and the dedicated graphics which is missing in other HP Sleekbook models.
There is no optical drive. Have the latest connectivity ports on both sides of the laptop for your convenience.
No DVDRW Drive on this laptop
Related Laptops