HP Laptop Pavilion 14-B004TU
HP Laptop Pavilion 14-B004TU Specification:
OSWindows 8
Screen14" HD LED Screen
ProcessorIntel Core i3-3217U Mobile Processor(3rd Gen)
RAM4GB DDR3 RAM
Storage500GB Hard Disk Drive
GraphicsOn Board Intel Graphics
DVD Drive
Camera
Card Reader
Battery
Connectivity
Ports
Weight
Max.Thick
Warranty
HP Laptop Pavilion 14-B004TU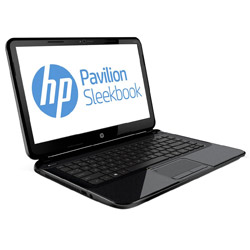 A 14inch displayed laptop from HP Sleekbook range, the HP Pavillion 14-B004TU is light in weight, slim and sturdy. The built quality of this 14 inch laptop is awesome. Comes with 3rd Generation Core i3 Processor and Intel HD 4000 in-built graphics. There are ports on the side of this laptop for most of the latest connectivity options.
If you travel a lot and looking to buy a laptop with Windows 8 OS with durable design, this is going to be the perfect offering from HP.
Related Laptops