HP Pavilion dv7-6010tx
HP Pavilion dv7-6010tx Specification:
OSWindows 7 Home Premium (64-Bit)
Screen17.3" HD+ LED Backlit Widescreen
Processor2nd Generation Core i3-2310M -2.1 GHz/ 3MB Processor
RAM4 GB DDR3 RAM
Storage640 GB HDD
Graphics1 GB GDDR5 Dedicated Graphics Radeon 6490M
DVD Drive
Camera
Card Reader
Battery
Connectivity
Ports
Weight
Max.Thick
Warranty
HP Pavilion dv7-6010tx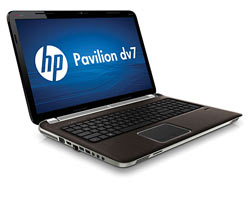 HP laptops are very reliable in market. And it's also one among the highest selling brand in the market. They recently introduced their new product in the Hp pavilion series named HP Pavilion dv7-6010tx. The package is a surprise with a huge 17.3 inch screen made by brightview technology using LED'S for display. It comes loaded with a Windows 7 Home Basic only. It has a wonderful display screen with superb resolution. Being loaded with one of the fastest processor one can not at all complain about speed problems.
So if we conclude it has everything one would desire in laptop. Faster speeds, facilities of web cam and Bluetooth, large screen and elegant looks what else one would need.  Full care is taken while designing. Looks and every other aspect are carefully attended. If you are looking for a nicely featured heavy laptop this one surely deserves attention. Due to heavy weight its portability can be a problem. So it's good for those looking for desktop replacements then HP laptops are certainly viable.
The RAM is 4GB but if you need more memory you can extend to 8 GB which is more than enough. HP laptops are a renowned name in producing home entertainment laptops also supporting full office use. Offers a amazing gaming experience without letting you compromise with battery deterioration. Your tasks would now be fast and quick with new HP Pavilion dv7-6010tx. Its powerful processor also allows you to be multitasking and presents no problem during work.
Considering the data and laptop safety it's provided with Kensington micro saver lock. It also accepts an integrated finger print reader. After all anyone can try to steal you're such beautiful belonging.
Its grand display can also turn to con although for some users it's a pro. Not every normal person wishes to have such extra large screen. Secondly its heavy weight presents portability problems too. So it's up to you to decide does it suits you. If yes order now. Some websites also offer additional advantages of free shipping and free antivirus for one year on HP laptops.
Related Laptops