HP Pavilion Ultrabook 14-b048tu
(+) PROS:

Students Laptop




(–) CONS:

HDD + SDD
HP Pavilion Ultrabook 14-b048tu Specification:
OSWindows 8
Screen14inch
ProcessorCore i3 2nd Generation 2367 1.4GHz
RAM4GB DDR3
Storage500GB HDD + 32GB SDD
GraphicsIntel HD 3000
DVD Drive
Camera
Card Reader
Battery
Connectivity
Ports
Weight
Max.Thick
Warranty
HP Pavilion Ultrabook 14-b048tu
If you are ready to spend about 35000 and looking for a decent laptop with attractive features, this HP Pavilion model no:14-b048TU should be on your first priority laptops list to buy. You may ask why? The answer is, it comes with Windows 8 AND 32GB of SSD Drive which gives tremendous user experience on any Windows 8 powered laptop. Also, this 14-b048tu Laptop comes with 4GB of RAM. It is complete package we highly recommend to any one who are looking for a Laptop with SSD Drive at an affordable price.
So, what are all the drawbacks on this laptop?
First of all, it comes with Core i3 2nd Generation Processor. But if you are not in to CPU intensive operations, no need to worry about it.
The screen size is 14 inch. Most of the college students and Internet users prefer 15.6 inch over 14 inch. But, if you are looking for a good performer as well as a portable laptop, 14inch  is the right choice.
There is no dedicated graphics. Also the integrated graphics on this machine is Intel HD 3000 which is not so powerful compared to HD 4000.
No DVDRW Drive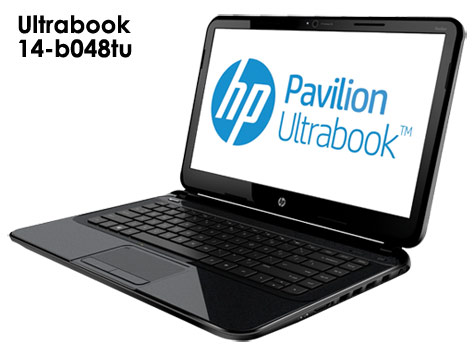 Related Laptops