Lenovo G580 59-351466
(+) PROS:

College Students




(–) CONS:

Less Features
Lenovo G580 59-351466 Specification:
OSWindows 8
Screen15.6 inch
ProcessorPentium Dual Core B960
RAM2GB DDR3
Storage500GB
GraphicsNo Deidcated GFX
DVD Drive
Camera
Card Reader
Battery
Connectivity
Ports
Weight
Max.Thick
Warranty
Lenovo G580 59-351466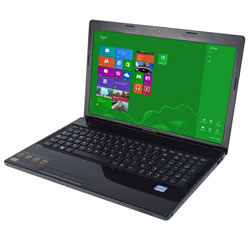 Budget laptop with Windows8 and Pentium Dual core B960 Processor, with clock speed of 2.2GHz. Comes with 2GB of RAM and the free memory slot allows for memory erpomsion up to 8 GB.
Thus essential G series laptops are for price curious people who looks for a laptop of reasonably good build quality and performance. This is a perfect laptop for beginners who seldom use this for Games and high GPU intensive processes.
There is no dedicated graphics on this laptop. However the Intel HD Graphics which comes with the B960 Processor is good enough for smooth decoding and display of HD videos. Playing latest games on this laptop is a big question.
This perfect every day use laptop has DVD RW drive and a front facing 0.3MP HD Webcam. There are 2Nos of USB3.0 ports and 1No of USB2.0 for old devices to accepts. The LAN is not a Gigabit type which is 10/100M. The absence of HDMI out port makes this laptop not suitable for HD video out which is highly essential for HD videos or Presentations on a bigger screen or on a HD projector. It comes with 6 cell battery with approximate backup time of 5hrs.
Windows8 works smooth on this laptop. However we highly recommend you to upgrade the memory with an additional 2GB of DDR3 RAM. Many people complain laptops with 2GB of RAM and Windows8 on it.
If you are not going to use the laptop for any heavy programs, we suggest buying the Lenovo G580 59-362301 which costs Rs 4000 less than this model and with the same body, keyboard, display, touchpad and ports. The only difference is the processor. Check it out for yourself.
Related Laptops