Lenovo Yoga 13
Lenovo Yoga 13 Specification:
OSWindows 8
Screen13.3" HD LED Display
ProcessorCore i5-3317(3rd Gen)
RAM4GB DDR3 RAM
Storage128GB SSD
GraphicsNo Dedicated Graphics
DVD Drive
Camera
Card Reader
Battery
Connectivity
Ports
Weight
Max.Thick
Warranty
Lenovo Yoga 13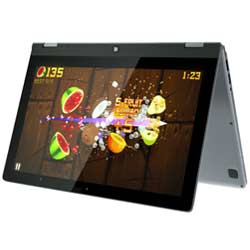 World's thinnest 13.3inch displayed convertible laptop from Lenovo which is designed with both portability and Windows 8's touch UI in mind. Lenovo did a great job on designing this Notebook + Tablet inside and out. Lenovo Yoga 13 is not just a simple Ultrabook. The 13.3 inch HD+ IPS LED display with 1600×900 DPI resolution gives you sharp images with great multi touch experience.
On a new system you may get this system boot from the cold at a maximum of 12 Seconds. Microsoft did a good job on Windows 8 OS to be lean at the boot and this Lenovo Yoga 13's 128GB of SSD drive helps to achieve that. Weighing only 1.54 Kgs and 0.67 inches of total thickness is highly portable.
Apart from the classic look, portability, 360 degree rotating display which helps in multiple orientation and great performance, this Yoga 13 Laptop also comes with some very useful buttons you need to place your attention before making your buying decision. There is a screen lock button at right side to prevent the automatic display view rotation which is really helpful on tablet mode. Another button is on the bottom of the LED display which is a Windows button. Upon pressing this button will bring up the Windows start menu while on tablet mode.
Yoga 13 – PROS
1MP + 720p HD Web Cam on the Front
SD+MMC Card Reader
1x USB 3.0 Port
1x USB 2.0 Port
HDMI Port
Combo Audi Jack
WiFi 802.11b/g/n
Bluetooth 4.0
Chiclet Keyboard ( Island Style Keyboard)
Glass type touch pad with integrated keys
128GB SSD Drive
Convertible
Classic Design
Comfortable extra buttons
Very thin
Light Weight
Long Battery Life
Infinity Display
Yoga 13 – CONS
Using it on tablet mode carrying it on one hand for even short period of time is questionable. You need to place it on your lap or table for long time usage on tablet mode. Also, while it is on tablet mode, the back of this laptop wouldn't be a perfect back cover like most tablets on that you no need to worry about nicks and scratches. Here you have the Touchpad and Keyboards sitting on the surface without any legs.
Only 4GB of RAM for this premium price
Only 128GB of SSD Drive
No Optical Disc Drive
Lenovo Yoga 13 Quick Launch Buttons and Ports
Click the image to see in full size

Review Video
Related Laptops