Lenovo Yoga 11
Lenovo Yoga 11 Specification:
OSWindows 8 RT
Screen11.6" Display
ProcessorNVIDIA® Tegra 3 Processor
RAM2GB DDR3 RAM
Storage64GB SSD
GraphicsNVIDIA® GeForce® Integrated GFX
DVD Drive
Camera
Card Reader
Battery
Connectivity
Ports
Weight
Max.Thick
Warranty
Lenovo Yoga 11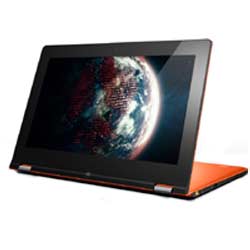 This Lenovo Yoga 11 comes with NVIDIA Tegra 3 processor and the Windows RT operating system. It is a convertible laptop like the Yoga 13 which you can use like a Laptop as well as a tablet. The display is a 11.6 inch IPS 5 point multitouch HD display which gives quiet good decent viewing experience from different angles. The storage on this laptop is 64GB SSD. The SD/MMC card slot allows storage expansion. Playing games is smooth and fast with the Tegra 3 Quad core processor and the Geforce integrated graphics.
It is very light in weight (1.27Kg). There are 2 full USB2.0 ports, one on each side and a full HDMI port. There is a combo audio jack at the side. There is no ports at the back or front.
Yoga 11 PROS
Very Light Wight
Awesome design
Highly portable
Convertible
Multiple screen positions
Works Smoothly
Long Battery Life
Yoga 11 CONS
Windows RT
While using as tablet, need to take care of the keys at the bottom
No Optical Drive
Just for a Windows RT device, the price is expensive
Reflective screen
No Accelerometer and playing games which supports that is not so fun.
Review Video
Related Laptops