Lenovo Z500 (59-380463)
(+) PROS:

Best Graphics




(–) CONS:

Design Students
Lenovo Z500 (59-380463) Specification:
OSWindows 8
Screen15.6inch
ProcessorCore i5 3rd Generation 3230M
RAM6GB DDR3
Storage1TB
Graphics2GB NVIDIA GT740M
DVD Drive
Camera
Card Reader
Battery
Connectivity
Ports
Weight
Max.Thick
Warranty
Lenovo Z500 (59-380463)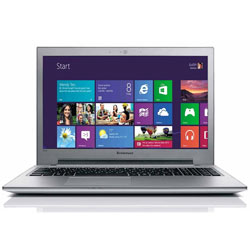 A good looking slim laptop with great configuration. Windows8 Powered laptop with Intel Core i5-3230 processor (3rd Generation) with a clock speed of up to 3.2GHz. 1TB is the hard disk drive capacity and 6GB is the RAM. The display is 15.6 inch comes with 2GB of dedicated Nvidia GT 740m graphics and 1Mega Pixel 720P HD webcam.
This is a slim laptop weighing only 2.89kgs with the dimensions of 375mm × 263mm × 25.4mm. The max thickness is just one inch which is the real difference. You could feel its tough built quality while holding it. The screen, hinges, touchpad, keyboard, etc. everything is perfect on this laptop. The keyboard is really a good design gives very smooth touch type feeling. The touchpad on this laptop responds good on multi gesture inputs. There are missing mouse keys. However the keys are built on top of touchpad. Initially this will give difficulty guessing the clicks.
It gives approximately 5.5hrs of battery backup with the 4cell battery which is non-replaceable.
There are two USB 2.0 ports and also there is one USB3.0 port. It has mic In and RJ45 LAN. It also have HDMI port , VGA port and two in one Card Reader. It have (WiFi Intel Centrino Wireless N-2330), Speakers, Bluetooth and Internal mic.
PROS
Good looking.
Fast processor.
2GB Dedicated Graphics.
Slim and Portable.
Good keyboard and touchpad.
Energy saver.
CONS
Reflective display.
Poor viewing angle.
Low resolution HD display (Not a IPS display).
No more slots for memory upgrade.
Non – removable battery.
Related Laptops