Lenovo U310 59-332848
Lenovo U310 59-332848 Specification:
OSWindows 7 Home Basic
Screen13.3 inch display
ProcessorCore i5 3317U(3rd Gen)
RAM4GB DDR3 RAM
Storage500GB HDD+32GB SSD
GraphicsNo Dedicated Graphics
DVD Drive
Camera
Card Reader
Battery
Connectivity
Ports
Weight
Max.Thick
Warranty
Lenovo U310 59-332848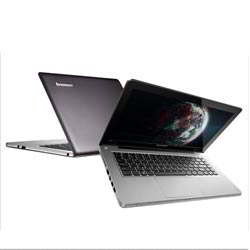 This spectacular LENOVO U310 59-332848 is launched by the company for creating a new evolution in the field of Ultrabook. There are many advanced features in this Ultrabook, which literally enhances the performance of the processor in a remarkable way. The beauty of this laptop is its comfy keyboard and extraordinary battery life along with instantaneous design. The smart technology implemented in this device, reduces the length and breadth of the device to the considerable extent. The sporty cutting edge technology gives a universal design to the laptop with a very high speed processor at the drastic rate of 1.7 GHZ. The cache is of 3 MB with heavy turbo boost speed at the rate of 2.6 GHZ. The advanced processor is named as i5 3317U, which is phenomenally advanced for drastic performance. The standard memory of LENOVO U310 59-332848 is about 4 GB of capacity, which are of the model DDR3. The memory processor's speed is also mind blowing, with a terrific speed of 1600 MHZ.
Marvelous memory and enchanting display
The hard drive of LENOVO U310 59-332848 consists of an inbuilt HDD memory with the value of 500 GB for storing large amount of data. The secondary memory cards and slots are extendable up to 32 GB with the RPM value of about 5400. The format value is 2.5 inch. The extraordinary screen of LENOVO U310 59-332848 has many features are 13.3 inches with the maximum display resolutions up to 1366 by 168. The panel type of the device's screen is of HD display and is also implemented with glare free screen. The chip set is of GMA HD Intel 3000 model with HDMI port equipped with it. The audio speakers deliver a very refined acoustic value with inbuilt advanced 1.5 W stereo speakers. The networking connectivity of LENOVO U310 59-332848 is of very ultra tech modes that has latest Ethernet type and latest version of WIFI type 802.11 b / g / n.
Related Laptops