Lenovo U410 59-332849
Lenovo U410 59-332849 Specification:
OSWindows 7 Home Basic
Screen14 inch Display
ProcessorCore i5 3317U(3rd Gen)
RAM4GB DDR3 RAM
Storage500GB HDD+32GB SSD
Graphics1GB Dedicated Graphics
DVD Drive
Camera
Card Reader
Battery
Connectivity
Ports
Weight
Max.Thick
Warranty
Lenovo U410 59-332849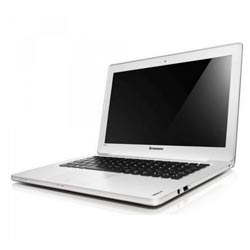 The recent launch of this astounding U series is exclusively special for their versatilities and wide screen displays. This graphite grey LENOVO U410 59-332849 gives a vibrant look that are manufactured by advanced engineering technologies. This stylish and trendy design has a log life battery installed with heavy graphical interface. The battery cell is lithium ion that longs for about five hours when continuously operated.
There are extra securities endowed by Lenovo for additional safe guards. For instance, advanced fingerprint sensors are implemented in this brilliant LENOVO U410 59-332849. There are many prologue ports like USB, which is of advanced version for fast access. RJ45 ports for LAN connectivity to operate the cyberspace. The installation of fully equipped HDMI output ports and for drastic photo transfer, there is an implementation of latest Bluetooth version v4.0. For unlimited usage of internet, fast WIFI detection is also implemented.
Literal implementation of high-tech equipments
The third generation powerful Intel core i5 processor is installed in this LENOVO U410 59-332849. The additional feature here is one year special warrantee ADP plus the McAfee virus definitions are upgraded to the laptop. The display screen is amazing designed with advanced HD display and anti-glare options. The size of the display measures around 14 inches with the very high resolution for about 1366 by 768 pixels. The memory features of this LENOVO U410 59-332849 are unbelievable with the expandable memory for about 8 GB. The RAM memory is highly upgraded with 4 GB with DDR3 versions. The drive type is of HDD for delivering more efficiency. The internal capacity of the LENOVO U410 59-332849 is remarkable with of very high memory that counts up to 500 GB. The presence of two memory slots is an additional feature in this lap. As the OS is of windows seven with the premium package, user can also change it to advanced windows 8 versions.
Related Laptops