Lenovo U410 59-342788
Lenovo U410 59-342788 Specification:
OSWindows 7 Home Basic
Screen14 inch Display
ProcessorCore i7 3517U(3rd Gen)
RAM4GB DDR3 RAM
Storage500GB HDD+24GB SSD
Graphics1GB Graphics(Nvidia)
DVD Drive
Camera
Card Reader
Battery
Connectivity
Ports
Weight
Max.Thick
Warranty
Lenovo U410 59-342788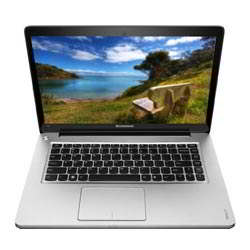 This splendid LENOVO U410 59-342788 is said to be one of the refined Ultrabook of this year. The elegant beauty of this book can be compromised by any of the laptop. The smart technology implemented in it with enormously thin and long battery life is the enchanting features of this glossy idea-pad. The world class and universal designs attracts the Ultrabook lovers considerably with its effective performance and gorgeous technologies. The turbo-boost speed of LENOVO U410 59-342788 is very high with the cache value of 3 MB at the power rate of 1.9 GHZ. The powerful processor consists of elegant Intel core 3517U with advanced i7 processor. The standard memory counts up to 4 GB of capacity with the model of DDR3 at the efficient speed rate of 1600 MHZ.
Enchanting specifications
The hard drive is of inbuilt HDD type with the capacity of 500 GB and additionally 24 GB of SSD with the format of 2.5 inches. The GPU speed of LENOVO U410 59-342788 ranges to 1 GB speed with the processor of NVIDIA G610M. The Ethernet ports are one, with WIFI type of 802.11 b / g / n. The battery life is extraordinarily high, equipped with 4 cells and the battery life comes up to 6.5 hours. The proficient battery model is of lithium ion battery. The operating system of LENOVO U410 59-342788 is of 64 bit home basic versions with the premium installations of windows seven. Presences of two USB ports with versions of USB 2.0 abd USB 3.0 are an enchanting feature in this laptop. The built in camera is of 1 MP and also equipped with advanced Bluetooth versions of 4.0. The crystal clear colors of the LENOVO U410 59-342788 laptops is very mesmerizing graphite gray that are designed out of high technological edging and tuning technology that are having the dimensions of 495 by 297 by 66 mm in the order of (W X D X H). As the display is of refined HD mode with LCD screen they deliver clear pictures without glaring.
Related Laptops