Lenovo Z580 59-333345
Lenovo Z580 59-333345 Specification:
OSWindows 7 Home Basic
Screen15.6" Display
ProcessorCore i5 3210M Processer
RAM4GB DDR3 RAM
Storage500GB Hard Disk Drive
Graphics1GB Dedicated Graphics
DVD Drive
Camera
Card Reader
Battery
Connectivity
Ports
Weight
Max.Thick
Warranty
Lenovo Z580 59-333345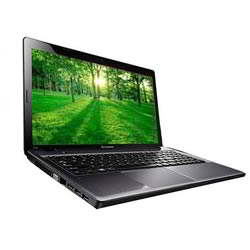 The Lenovo laptops are one of the exceptional and most desirable notebook types among the number of supercomputers that have been introduced in the 2012. This laptops are very useful for the all kinds of users to perform their tasks effectively with full of comfy feel. Out the different laptop designs from the Lenovo, the Lenovo Z580 59-333345 is the marvelous invention for the latest notebook users. Every application in this laptop models is easily accessible by the users and the features that are related to this laptop's applications are designed with the superior technology. So, the customers can use these laptop features as like as their familiar Smartphone models without any complexities. These Lenovo Z580 59-333345 models are applicable for wide range of applications that are required to fulfill the user's desires. They include high-speed internet access, easy mode of data storage with extreme memory option, instant connections with mass storage devices, outstanding entertainment feature from the in-built software tools and more. There is no limitation for the number of appliances from this extraordinary Lenovo laptop models.
Design parts and its excellences
The excellences of the Lenovo Z580 59-333345 laptop design includes the competent interior design work and dazzling exterior design sight. The excellent features of the interior design work are able to provide the extraordinary performance to the users from the number of in-built technical tools and applications. The interior design parts of this Lenovo Z580 59-333345 Notebook includes i5 processor with 2450M, 4GB memory capacity of RAM, 500 GB internal storage memory and more. The efficient third generation i5 core processors are capable of conferring the supreme performance to the overall system processing. And this laptop design is associated with the effectual operating system that is window 7 basic, which comprises the outstanding tools and premade software applications for user's convenient. The eye-catching exterior design of this Lenovo Z580 59-333345 laptop comprises the things like 15.6 inch attractive screen display, pretty nature of laptop colors, and ultimate framework.
Related Laptops