Lenovo Z580 59-333647
Lenovo Z580 59-333647 Specification:
OSWindows 7 Home Basic
Screen15.6" LED Screen Display
ProcessorCore i5 3210M Processer
RAM4GB DDR3 RAM
Storage500GB Hard Disk Drive
GraphicsNo Dedicated Graphics
DVD Drive
Camera
Card Reader
Battery
Connectivity
Ports
Weight
Max.Thick
Warranty
Lenovo Z580 59-333647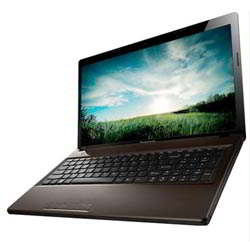 Nowadays, there is a wide range of laptop models will be invented by the number of laptop manufacturing groups. So, the huge amounts of laptop collections are easily obtainable from the market with outstanding features and advanced technologies. But, every laptop model is not capable to confer the same performance to the users.If you desire to get the exceptional laptop model from the broad collections, now just select the Lenovo Z580 59-333647 laptop series and feel the difference. This efficient laptop stunned the complete 2012 laptop designs which are discovered into the market. This laptop model is designed with the number of excellent feature like touchpad facility, Dolby home theater with stereo speaker, instant connectivity for Bluetooth option, wireless and mass storage devices, tray-in Rambo optical drive and more. These entire facilities from these Lenovo Z580 59-333647 laptops are highly efficient to confer the special traits to the users than the other laptop models.
Framework and specialties
The Lenovo Z580 59-333647 Notebook models bestow the exhilarating sense to the users by the means of its exceptional design appearance. From the perfect interior design work and fine exterior vision makes the laptop design very attractive and pretty. When considering about the performance of this Lenovo Z580 59-333647 series laptop models out of this dazzling design, the number of features and technical applications include third generation i5 processors with Intel-core base of 3210M, 3.1 GHz 3MB cache, 500 GB hard disk memory, 4 GB internal storage memory, and 15.6 inch LED screen display with high definition view etc. The battery feature of this Lenovo Z580 59-333647 laptop design is made with the 6 cell battery option that is competent of confer the extra lifetime for every accessories in the laptop. This laptop model is capable for upgrading the amount of data up to 8 GB without any restrictions.
Related Laptops