Lenovo Z580 59-333651
Lenovo Z580 59-333651 Specification:
OSWindows 7 Home Basic
Screen15.6 inch Display
ProcessorCore i3 2370M Processor
RAM4GB DDR3 RAM
Storage500GB Hard Disk Drive
Graphics1GB Dedicated Graphics
DVD Drive
Camera
Card Reader
Battery
Connectivity
Ports
Weight
Max.Thick
Warranty
Lenovo Z580 59-333651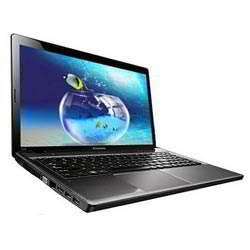 There are several laptops that have entered into the market but the Lenovo company laptops always have a permanent place in the field of the laptop sales because of its quality. The configurations of this company's laptops have been fabricated so that they can withstand and would be compatible for all the applications that would be released in the future. Especially the Lenovo Z580 59-333651 model has all the hardware to support the future applications. This Lenovo Z580 59-333651 models come with the metallic grey color which makes it to be an amusing spectacle.
Specifications of the summit performance
The Lenovo Z580 59-333651 comes with Intel powered i3 processor that runs on the speed of 2.31 GHz which bestows the user the ability of multi tasking at high speeds. The internal memory of the laptop copes up with the processor and it is of 4GB which enables the laptop to run the applications in an uninterrupted manner. The storage capacity of the Lenovo Z580 59-333651 models are very high so that you can store 500 gigabytes of data in it. This enormous storage gives you the facility of storing all your favorites at ease. The next amusing component is the Graphics processor unit. This Lenovo Z580 59-333651 embeds the graphic card of 1 GB which helps you to completely convert the laptop into a complete entertainment unit and to enjoy all the advanced graphics games. The screen of the laptop is of 15.6" inches so that the user can get a great visual experience with its screen. This laptop comes with the operating system of genuine windows7 so that the user can completely enjoy with all the latest applications and the games compatible for windows operating system. The price of this laptop is very reasonable and it is packed along with the antivirus software of MacAfee to safeguard your laptop from the viruses.
Related Laptops