Lenovo Z580 59-339355
Lenovo Z580 59-339355 Specification:
OSWindows 7 Home Premium
Screen15.6" HD LED Screen
ProcessorCore i7 3612QM(3rd Gen)
RAM8GB DDR3 RAM
Storage1TB Hard Disk Drive
Graphics2GB Graphics (Nvidia)
DVD Drive
Camera
Card Reader
Battery
Connectivity
Ports
Weight
Max.Thick
Warranty
Lenovo Z580 59-339355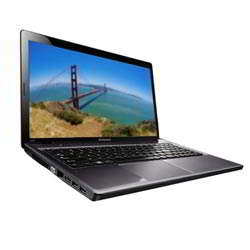 The world's best model in Laptop to use with premium quality is none other than the Lenovo Z580 59-339355 with latest startling features. Once you use the typical version of Lenovo notebooks, you never keep it down at instant because of its terrifying classy designs and everlasting specifications. Typically, the Lenovo Ideapad is well equipped with gorgeous technology which will work for long period without any interpretation. The Operating System of new model notebook is works in Windows 7 Home Premium version with 64-bit and the type of the notebook is absolutely Mainstream. The processor model name of the Lenovo Z580 59-339355 is Intel Core i7 3612QM and it works at the clock speed of 2.1 GHz with the turbo speed boost up to 3.1 GHZ. In addition, it works in ultra-low voltage with graphic processor in the name of Nvidia GT 630M. Storage capacity is also well furnished with the ease of HDD type as SATA, capacity is 1 TB, speed of hard drive is typically in the range of 5400 as well as it also enclosed with optical drive of Blue-ray DVD with optimist characters.
Memory and Screen Display Features
The memory capacity of Lenovo Z580 59-339355 is inbuilt with RAM processor in the GB of 8 and in the type of DDR3. The resolution is generously well-designed with quite features to view the picture or image in the pixel clarity which includes 1366 x 768 of resolution capacity. The size of the Lenovo Z580 59-339355 display screen endows the elegant look while access the browse because of HD LED display premium technology. Normally, the 15.6 is the usual size of Lenovo notebooks. You can also access the Internet with the use of Wi-Fi and Bluetooth connectivity as well in the version of 4.0. Typically, the Lenovo Z580 59-339355 is features in built-in web camera with precious Memory card reader.
Related Laptops