Samsung N102S-B01/B05IN
Samsung N102S-B01/B05IN Specification:
OSWindows 7 Starter
Screen10.1" LED Display
ProcessorIntel Atom Processor N2100
RAM1GB DDR3 RAM
Storage320GB Hard Disk Drive
GraphicsNo Dedicated Graphics
DVD Drive
Camera
Card Reader
Battery
Connectivity
Ports
Weight
Max.Thick
Warranty
Samsung N102S-B01/B05IN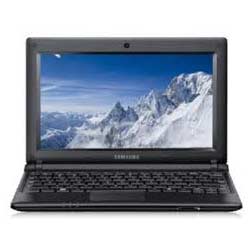 Recently, Samsung has released a new mini notebook known as Samsung NP-N102S-B01/B05IN, which has a 25.65cm WSVGA LED display of anti-reflexive integrated with Intel GMA 3600 Atom graphic processor. It mainly designed to endow a display screen resolution endow clear pixels. In addition, N102S also runs on Genuine Windows 7 with starter OS and inbuilt with 1GB DDR3 system memory slots. It also has 320GB S-ATAII (5,400RPM) HDD for memory storage options. As well, the connectivity options of notebook well equipped with 10/100 Ethernet LAN, USB 2.0 ports, 4-in-1 card reader memory, Wi-Fi, VGA port, and more. Apart from this, it is well integrated with web camera and with well specialized HD camera. The connectivity of Wi-Fi internet is designed to access 806.11 bg/n of process or browse the web as fast. You can also take the battery backup up to ten hours in the new version of as Samsung NP-N102S-B01/B05IN.
Gives New Look
The new contemporary model of Samsung notebook has various options and everlasting features at affordable price. Samsung NP-N102S-B01/B05IN is fully enclosed with HDD password, Kensington lock slot, live windows; as well as Skype option is also available to chat with worldwide people. Apart from this, you can also share the files in easy manner as well as Cyberlink and Youcam also obtainable to catch and download the certain documents without any interpretation. This new notebook of Samsung NP-N102S-B01/B05IN has the following measures of 264.0 x 188.0 x 30.1 and the weight is about the 1.03kg. Apart from this, the new version of Samsung NP-N102S-B01/B05IN laptop is typically comes in two distinct color such as white and black as well as it is powered by a 40 watts AC adapter. It is available in all retail shop at affordable price according to the customer budget and desire.
Related Laptops