Samsung NP300E5C-A05IN
Samsung NP300E5C-A05IN Specification:
OSWindows 7 Starter
Screen15.6" HD LED Display
ProcessorIntel Pentium B815
RAM2GB DDR3 RAM
Storage320GB Hard Disk Drive
GraphicsNo Dedicated Graphics
DVD Drive
Camera
Card Reader
Battery
Connectivity
Ports
Weight
Max.Thick
Warranty
Samsung NP300E5C-A05IN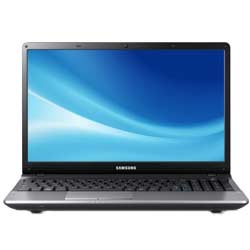 The Samsung NP300E5C-A05IN notebook is powered by the processor of Intel Celeron B815 (1.60 GHz, with 2 MB) which is well supported by the 2GigaBytes of DDR3. Apart from this, the Samsung endows genuine in Windows 7 with sparkling Operating System to access. The speed of the Intel processor is about 1.60 GHz with 2 MB of cache memory. It has the standard memory capacity of 2GB in the DDR3 type as well it speeds up to 1333 MHz and the slots of memory storage is up to 2 DIMM slots. Samsung NP300E5C-A05IN is inbuilt with 320GB hard disk drive (HDD) at optimum speed of 5400 in 2.5 inch format. Not only physical appearance, but display features also designed to endow high pixel screen. The size of the display screen is about 15.6 inches and the maximum display capacity or resolution is about 1366×766. The HD LED display is designed with panel type.
Standard Features of Samsung
Samsung NP300E5C-A05IN is typically designed with anti-aging battery life to enhance the power consumption. With the use of this battery, it is more environmental and economical with user friendly as fewer batteries which need to replace over the lifecycle of the laptop. Additionally, the life of Samsung NP300E5C-A05IN notebook is typically challenging, so the laps can easily become scratch though it use as a small amount. To avoid this, the robust duracase casing is enclosed with the notebook. With the use of this duracase, the laps will not get scratch for a long period. The anti-reflexive display is also similar among the other Samsung notebooks. It gives crystal clarity picture with brightness color. The speaker is also inbuilt with the 3 Watts Sterio Speaker (1.5 watts x 2) in the new version of Samsung NP300E5C-A05IN. Bluetooth is also available in the A05IN model in the version of 4.0.
Related Laptops