Samsung NP530U3B-A02IN
Samsung NP530U3B-A02IN Specification:
OSWindows 7 Premium
Screen13.3" Display
ProcessorIntel Core i5-2467M
RAM4GB DDR3 RAM
Storage500GB HDD with 16GB Express Cache
GraphicsNo Dedicated Graphics
DVD Drive
Camera
Card Reader
Battery
Connectivity
Ports
Weight
Max.Thick
Warranty
Samsung NP530U3B-A02IN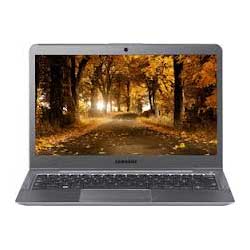 The spectacular Samsung NP530U3B-A02IN is more exclusive for its marvelous design and remarkable performance. This Ultrabook is embedded with very genuine windows seven with steady fast 64 bit of premium mode. The display is of crystal clear LCD and is implemented with HD and LED display with the incredibly high resolution of 1366 by 768/ which in turn gives crystal clear clarity with super bright options embedded in this Samsung NP530U3B-A02IN. This laptop has a very high specification value, which are precisely having very less dimensions like, the depth counts to 218.9 mm and the height ranges to 14.9 mm. the graphical memory is very advanced with the implementation of shared system memory. This Samsung NP530U3B-A02IN is exclusively light weighted that weighs for about 1.39 kg or 3.06 lbs. the internal memory is highly implausible with the system memory of DDR3 system at the memory rate of 4 GB. It also operates at 1333 MHZ for implementing the slots that value up to 1 DIMM slots.
Effective and advanced features
This phenomenal laptop has the Intel core of i5 processor at the rate of 2467 M with L3 Cache on 3MB at the speed if 1.60 GHZ. The Samsung NP530U3B-A02IN laptop is able to give such a proficient performance because of efficient chipset of model Intel HM65. The multimedia option of this laptop is very advanced that are implemented with excellent acoustic for refined audio quality embedded with sound alive noise suspension technology. There are dual speakers with stereo mode at 4 watts. The HD camera in Samsung NP530U3B-A02IN is integrated with the processor having the pixel value of 1.3 MP. The network for using the cyberspace are marvelously implemented with wireless LAN, wired Ethernet and advanced versions of high speed Bluetooth with V3.0 version for drastic transfer of data. The power value is highly efficient with the installation of AC adapter of 40 watts and a standard 4 cell battery.
Related Laptops