Samsung NP900X3C-A01IN
Samsung NP900X3C-A01IN Specification:
OSWindows 7 Premium
Screen13.3" LCD Screen Display
ProcessorIntel Core i7-3517U
RAM4GB DDR3 RAM
Storage256GB SDD
GraphicsNo Dedicated Graphics
DVD Drive
Camera
Card Reader
Battery
Connectivity
Ports
Weight
Max.Thick
Warranty
Samsung NP900X3C-A01IN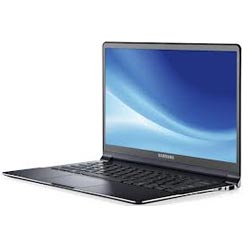 This Samsung NP900X3C-A01IN is remarkably thin with extraordinary craftsmanship carved by Samsung engineers that counts up to 12.9 mm or 0.5 inch thickness. This incredible Samsung NP900X3C-A01IN boots up within 8.4 seconds equipped with brilliant light sensor technology keyboard. The power value of the AC adapter ranges up to 40 watts and is equipped with four cell battery at the rate of 44 WH. The recovery solution of the Samsung is very fast and also comes with Norton Internals security as a trial package. The operating system is of advanced windows seven premium at the bit rate of 64 bits and it also comes with home premium. The processor is very powerful and elegant those are equipped with Intel core i7 at 3517U for a high and efficient performance. The processor speed is at the rate of 1.90 GHZ at 4 MB and L3 Cache.
Mind blowing specifications
The Samsung NP900X3C-A01IN has a fantastical display with bright and eminent quality LCD screen, ranging up to 13.3 inch long with 33.78 cm size. This super-bright display has 400 nit HD displays with the resolution capacity of 1600 by 900 values. As the display supports full HD quality and is equipped with anti reflective screen, they do not glare and give a crystal clear quality of display without any glaring. The width of the Samsung NP900X3C-A01IN measures up to 313.8 mm with depth value of 218.5 and height is 12.9 mm. this light weight device is very easy to carry in hand that has a very light weight for about 1.16 kg. The graphical processor of the Intel is about HD Graphic 4000 installed with shared system memories. The chip set implemented in the laptop is Intel HM75 with the hard disk storage capacity of 256 GB and is of the form solid state drives. Apart from this, here is an integrated camera with 1.3 MP of HD webcam. The sound effect of Samsung NP900X3C-A01IN is HD acoustic quality equipped with 3 watt stereo speaker.
Related Laptops