Samsung-NP530U3B-A02IN
Samsung-NP530U3B-A02IN Specification:
OSWindows 7 Home Premium
Screen13.3 inch ultra-thin HD LED display
ProcessorIntel Core i5 2467M Processor 1.60GHz, 3MB L3 Cache
RAM4 GB DDR3 1333 MHz RAM
Storage500 GB Hard Disk Drive with 16GB express X Cache
GraphicsIntel HD Graphics
DVD Drive
Camera
Card Reader
Battery
Connectivity
Ports
Weight
Max.Thick
Warranty
Samsung-NP530U3B-A02IN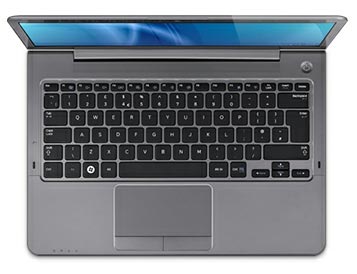 The  processor of Samsung-NP530U3B-A02IN is  Intel® Core™ i5-3320M processor comes with embedded security that protects business data. Built-in features are – address IT security management, enabling faster data encryption, protection against malware and virus threats, quick deployment of security patches, and secure client access.
This laptop has operated with Genuine Windows® 7 Home Premium (64-bit), that start the programs faster and quickly find the documents you use most often. Make your web experience faster, easier and safer with Internet Explorer 8.
The 13.3 inch  SuperBright  HD LED Display with  Anti-Reflective reduces the surface reflectivity to approximately 0.3%, gives high image clarity and works on a wide temperature range.
Has a 500GB S-ATA II Slim Hard Drive with Express Cache 16GB, its extra bulky capacity can store punches of files, thus you can enjoy your movie, picture, album and games.It is basically designed for the purpose of portability.
The multimedia featured camera is capable of displaying multiple resolutions from CIF (320 x 240) through to 16:9 format 720p full HD and up to 1.3 megapixel (1280 x 1024).
Related Laptops